Whether you have continued to work on campus as a critical worker, you are returning to campus, or are working remotely, we are committed to supporting you and our top priority is your health and safety.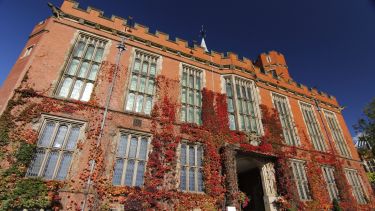 We're working to government guidelines and with our own risk assessments to plan the safe return of colleagues to campus at the appropriate times. If you are currently working remotely away from campus please continue to do so unless otherwise instructed.
Research

Guidance is in place to allow faculties and departments to prioritise and risk assess research to resume in laboratories, studios and other campus research facilities.

Our Advanced Manufacturing Research Centre (AMRC) and Nuclear Advanced Manufacturing Research Centre (NAMRC) are also underway with a phased return to onsite operations.

Teaching

Teaching staff are delivering a blend of face-to-face and online teaching and we have put plans in place to ensure they can work effectively and safely when they come onto campus to teach. We may also ask small numbers of people who support students or teaching to come onto campus to support the student experience.

Other areas of work

We expect that most other colleagues, including professional services staff, will need to continue to work remotely for much of this calendar year. This will help us to reduce the numbers of people on campus and ensure the safe delivery of face-to-face teaching.

Travelling to campus

If you are returning to campus, you will probably be planning your travel options. To help inform your travel decisions, please review the return to campus risk assessment for teaching staff (lines 13-15).

Personal transport should be used over public transport where possible and, for those of you who are in a position to do so, we encourage you to walk or cycle in. If you do need to use public transport, remember to take advantage of our discounted travel passes. 

Cycle to work scheme

Our cycle to work scheme means you can save up to 42 per cent on the cost of a bike and cycling safety accessories. The scheme is open from now until 30 June 2021, with a maximum limit of £2,500 to be repaid interest free over a period of 12 months. You can find out more and apply through The Deal - find cycle to work in the benefits and discounts menu.

We also have a number of electric bikes available for hire in a new try-before-you-buy initiative. You can hire an electric bike for two months at a time free of charge, but we do ask users to put down a security deposit of £150. This will be refunded at the end of the two months, providing the bike is returned in working order. Electric bikes are available to purchase via the cycle to work scheme.

If you are cycling to campus, we have more than 1,400 cycle spaces available. 

Car parking and permits

Parking in University car parks will be free of charge for staff and students who are returning to campus until January 2021. We will, however, continue to operate a permit system to ensure that our car parks are being used for University business. This also means we can contact vehicle owners in an emergency, and will allow us to understand what demand there may be for parking facilities moving forward. Please note that we have now ended our free parking provision for NHS workers at nearby hospitals.

If you already have a parking permit, please display this on your vehicle when visiting campus; there is no need to display a scratchcard. The expiry date will be extended from the end of September to the end of December so our campus wardens know it is valid.

We have relaxed criteria for assigning new permits and you can apply for one via our parking services web pages. You can also make amendments to your existing permit details.

University Library

Access to the Information Commons and Western Bank Library will be available in bookable slots from Monday 28 September. For further details and other updates, including information for researchers and for staff who teach, visit the University Library autumn term information page.
---
For those already back working on campus, we have carried out comprehensive risk assessments and have strict hygiene and social distancing measures in place. If you are due to return, you will receive detailed instructions from your department about the safety precautions required for your area of work and on campus. You will also be asked to complete a mandatory return to campus training course.
Visit the safety guidance page for the latest safety information. You'll find guidance on:
what to do if you have symptoms
how you can help keep our community safe
how we're keeping our campus Covid-secure
Safety guidance documents

The latest safety guidance documents can be found on our return to campus/autumn term shared drive.

For colleagues at increased risk from Covid-19

Please be assured that we are undertaking equality impact assessments to identify and help mitigate the impacts of returning to campus for different groups of staff. In their risk assessments and return to campus plans, departments are taking into account risk factors for Covid-19 including age, gender, ethnicity and existing health conditions. Any extra precautions are provided in the detailed instructions people returning to campus receive from their departments.

If you are at increased risk from Covid-19 and you feel that more can be done to support you, please speak with your manager or the management level above if they have been making the return to campus plans. If you do not feel comfortable doing this, you may also speak with your trade union, your faculty director of equality, diversity and inclusion, the Black, Asian and Other Minority Ethnic (BAME) Staff Network, the health & Safety team, the equality, diversity and inclusion team in HR or your faculty HR team. However you raise the issue, HR will work with you and your department to help find a solution.
---
Visit the learning and teaching guidance section of our shared drive for the latest guidance documents. You can also refer to all-staff emails for information about preparations for the autumn term.
Information for students

For information about how we're adapting our teaching, timetables, exams, study abroad and libraries, please refer to the student section on these web pages.

Support

Support and guidance to help with your planning and practice for learning and teaching for the academic year 2020-21 can be found via Elevate.

Digital learning support is available from APSE.

Information for staff who teach is available from the digital library.
---
Visit the research, fieldwork and travel guidance section of our shared drive for the latest guidance documents.
Support for researchers and guidance from research funders can be found on our Research Services web pages.
---
For support during this period of working away from campus, please visit our remote working web pages. Here you will find information about IT support, working safely and securely, wellbeing, development opportunities, teaching and learning guidance, print services, looking after your musculoskeletal health and more. We also have a process in place for collecting essential items from the workplace. Your departmental coordinator will contact you with more information.
We understand that working remotely brings its own challenges. If you are struggling please do talk to your manager or contact the staff helpline and counselling service.
For any IT related questions, you can call the IT Service Desk on 0114 222 1111 between the hours of 8am and 5pm, Monday to Friday.
---
Return to campus/autumn term shared drive
A world top-100 university
We're a world top-100 university renowned for the excellence, impact and distinctiveness of our research-led learning and teaching.