Whether you have continued to work on campus as a critical worker, you are returning to campus, or are working remotely, we are committed to supporting you and our top priority is your health and safety.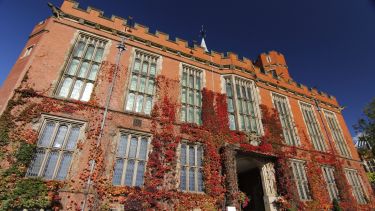 We're working to government guidelines and with our own risk assessments to plan the safe return of colleagues to campus at the appropriate times. If you are currently working remotely away from campus please continue to do so unless otherwise instructed.
---
For those already back working on campus, we have carried out comprehensive risk assessments and have strict hygiene and social distancing measures in place. If you are due to return, you will receive detailed instructions from your department about the safety precautions required for your area of work and on campus. You will also be asked to complete a mandatory return to campus training course.
---
Teaching staff will be delivering a blend of face-to-face and online teaching in the autumn and we are putting plans in place to ensure they can work effectively and safely when they come onto campus to teach. For information about how we're adapting our teaching, timetables, exams, study abroad and libraries, please refer to the student section on these web pages.
---
Guidance is now in place to allow faculties and departments to prioritise and risk assess research to resume in laboratories, studios and other campus research facilities. Guidance documents have been shared with relevant colleagues and are available on our return to campus/autumn term shared drive. 
Our Advanced Manufacturing Research Centre (AMRC) and Nuclear Advanced Manufacturing Research Centre (NAMRC) are also underway with a phased return to onsite operations.
Library facilities for research
As part of your research, you may need to access physical books from Western Bank Library. You can do this via our Books 2 You service. Please only request items that are vital for your research and cannot be accessed digitally. Library colleagues will retrieve the requested items and they will be delivered direct to your doorstep – anywhere in the UK.
---
For support during this period of working away from campus, please visit our remote working web pages. Here you will find information about IT support, working safely and securely, wellbeing, development opportunities, teaching and learning guidance, print services, looking after your musculoskeletal health and more. We also have a process in place for collecting essential items from the workplace. Your departmental coordinator will contact you with more information.
We understand that working remotely brings its own challenges. If you are struggling please do talk to your manager or contact the staff helpline and counselling service.
For any IT related questions, you can call the IT Service Desk on 0114 222 1111 between the hours of 8am and 5pm, Monday to Friday.
---
Return to campus/autumn term shared drive
We've set up a shared drive to house relevant information and guidance. Please bear with us as we work to develop this. If you have a document you'd like us to consider including, or if you think anything is missing, please let us know by emailing internalcommunications@sheffield.ac.uk
A world top-100 university
We're a world top-100 university renowned for the excellence, impact and distinctiveness of our research-led learning and teaching.