The Student profile Content type is used for displaying a current or former student's account of their experiences at the University.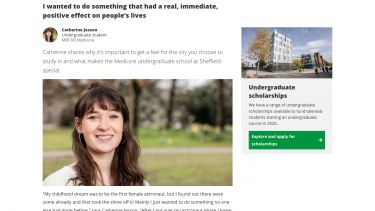 Who can use this Content type?
Group Supervisors, Group Owners, Group Editors (create, edit, unpublish, archive)
Example
Undergraduate student profile in The Medical School.
When?
You should use the Student profile Content type to illustrate students' experiences of living and studying at the University.
Why?
This Content type allows you to create a well-structured and consistent profile of a student.
How?
When creating a page, choose the Student profile Content type then assemble the page using the components below.
---
Components
You can currently build a student profile using the components below. We're continuing to develop this Content type with design and feature improvements planned for the coming months.
1. Headline
Make sure these are varied so each student profile is unique. You should aim to capture your audience's attention with interesting headlines like 'A turning point in my life', or 'Why Sheffield was the perfect place for me'. Limited to 150 characters maximum.
2. Intro
Use the introduction to summarise the profile in a concise and inspiring way.
3. Name
This is to display the student's full name, starting with their first name.
4. Profile image
This should be a hi-resolution headshot of the student so their face is clearly visible on smaller screens. This will be displayed avatar-style next to the student's name and sub-headings.
5. Sub-headers
These appear below the name of the student. The first sub-header states either what level the student is at, eg 'PhD student', or what their job role is if they are alumni.
The second sub-header states the student's degree title or research group name. Each is limited to 100 characters maximum.
6. Department
This shows which department the student is a part of, eg 'Department of Economics'. You can also select multiple departments if necessary.
7. Faculty
This is where you put which faculty the student's department comes under, eg 'Faculty of Social Sciences'.
8. Class of...
Display the year the student graduated from their course here.
9. Level of study
This is where you select the student's current level of study. You can choose one of the following options: Undergraduate, Postgraduate taught, Postgraduate research, Other.
10. Status
This shows whether the profile is that of an alumna or current student.
11. Nationality
Begin typing into the search bar to find the nationality of the student and select the appropriate result. Choose 'Unknown' if you are unsure of the person's nationality.
12. Body
The main content of the page goes here. This can be laid out in a Q&A format, and you may also want to pick out some interesting quotes as well as inserting more images of the student. Body content is added using the Editor. Learn more about using the Editor.
13. Related information (additional information)
Related links are optional.
14. Promotions
There are two components which appear in the sidebar (on larger screens) or below the main content (on smaller screens) on a page:
Group Promotion - one per Group website
Central Promotion - one chosen per page from a bank managed by Corporate Communications
Get in touch
If you have CMS questions or are stuck then get in touch and we'll do our best to help.