Essay structure and planning
Information on how to structure and plan your essay.
An essay is a focused, academic discussion of a particular question, problem or issue.
Many of you have been writing essays for years, and are probably good at it. That's great, and everything you look at here will build on and develop those skills.
But it's worth asking: are there different things expected of a university essay from those for school, college, or other contexts?
The obvious answer is yes, and it takes time and effort to learn the range of writing skills needed to produce university essays effectively.
There are all sorts of reasons why essays are common forms of assessment. They allow you to explore a problem in-depth, express yourself concisely and precisely, and debate other people's published opinions on a topic.
They're also a good warm-up for traditional forms of academic publication, such as a journal article.
Academic essays usually follow an established organisational structure that helps the writer to express their ideas clearly and the reader to follow the thread of their argument.
An essay's structure is guided by its content and argument so every essay question will pose unique structural challenges.
---
Essay writing is a process with many stages, from topic selection, planning and reading around, through to drafting, revising and proofreading.
Breaking the task down and creating a clear plan with milestones and intermediate deadlines will allow you to focus attention more fully on the writing process itself when you put your plan into action either as part of an assignment or an exam.
1. Understand the question
Is the question open-ended or closed? If it is open-ended you will need to narrow it down. Explain how and why you have decided to limit it in the introduction to your essay, so the reader knows you appreciate the wider issues, but that you can also be selective.
If it is a closed question, your answer must refer to and stay within the limits of the question (ie specific dates, texts, or countries).
What can you infer from the title about the structure of the essay?
2. Brainstorm for ideas
What you know about the topic – from lectures, reading etc
What you don't know about the topic, but need to find out to answer the question
Possible responses or answers to the question – any ideas about your conclusion.
Consider using a mind map to organise your thoughts…
3. Make a plan
Planning your essay makes it more likely that you have a coherent argument
It enables you to work out a logical structure and an endpoint for your argument before you start writing
It means you don't have to do this type of complex thinking at the same time as trying to find the right words to express your ideas
It helps you to commit yourself to sticking to the point!
---
If you're stuck on an overall structure for your essay, try this simple model for organising a typical academic essay. An hourglass essay introduces a broad area, before narrowing the focus towards the specific question that you are answering. It finishes by placing that narrow area back into a wider context. 
Introduction: the funnel of the hourglass
Set the scene and lead your reader into your essay by introducing the broad area of interest and then narrowing towards your specific focus:
Start broad with a hook to catch the reader's attention
Provide some context for the hook. What does your project add to it?
Focus on the narrow area of your essay: can you summarise it in a single sentence mission statement?
Body: the stem of the hourglass
The body of your essay should be as narrow and focused as possible. Body paragraphs will take one sub-topic at a time and provide a logical flow of ideas for your reader:
Start each paragraph with a topic sentence to tell your reader what it will cover
Fill your paragraph with a range of supporting evidence and examples
Finish your paragraph with a final wrapping-up sentence to summarise and/or link ahead
Conclusion: the base of the hourglass
Your chance to reinforce your key messages and go out with a bang:
Revisit your mission statement: how have you addressed it?
Summarise the main points of your argument or findings
Finish with a broader scope, explaining how your topic might inform future research or practice, or where gaps remain
301 Recommends: Essay Planning Template
Use this template (google doc) to plan a structure for your essay, paying particular attention to the ways in which you have broken down the topic into sub-themes for your body paragraphs. 
---
Start planning early, leave your plan for a couple of days, and then come back to it. This may give you a fresh perspective.
It is often easiest to write the introduction last, but when you are planning your essay structure make sure you have your mission statement.
A good plan will make it much easier to write a good essay. Invest the time in making a plan that works.
Check what your tutor wants, but it is often best to focus on one element in great detail, rather than discuss several aspects superficially.
Make sure you allow time to proofread your work before submission!
Internal resources
External resources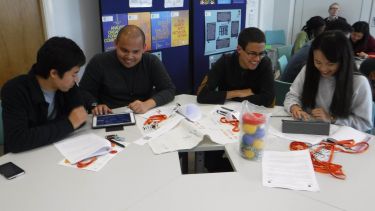 Book a Study Skills Workshop or 1:1 appointment
Would you like to explore a study skills topic in greater depth? Book on for a face-to-face or online workshop or 1:1 Study Skills appointment (current students only).
A world top-100 university
We're a world top-100 university renowned for the excellence, impact and distinctiveness of our research-led learning and teaching.