If you're applying for undergraduate study at Sheffield, you'll find all the key information on this page. Please read it before you complete your application.
On
We normally expect applicants to offer three full A Levels or an accepted equivalent qualification. You can check the University's general entry requirements, including accepted UK and international qualifications and our English language and mathematics requirements, on our Admissions Requirements webpage. This also contains information about our foundation year courses.
You can find details of the entry requirements for particular courses in our online prospectus:
Please note that these represent our typical offer conditions only – we may make different offers in some cases.
A full list of our formal policies relating to Admissions is available on our Admissions Policies and Qualifications Policies webpages. This includes our Student Admissions Policy as well as policies on A Level subject combinations, resits, and qualifications taken early.
---
You can apply for an undergraduate course at Sheffield via UCAS (the Universities and Colleges Admissions Service):
Applications for places on courses starting in September 2024 (except Medicine and Dentistry) should be submitted to UCAS between:
1 September 2023 and 31 January 2024 to be guaranteed equal consideration with other applicants
1 February and 30 June 2024 for further consideration, although we may not be able to consider your application if all the places on the course you've applied for have been filled
Applications for places on Medicine and Dentistry courses must be submitted between 1 September and 16 October 2023.
You can find more information about how and when to apply on our Submitting Your Application webpage. This also contains information about deferred entry and direct entry to year/level 2.
We're committed to ensuring all students with the potential to succeed on our courses have access to a world-leading education at the University of Sheffield. If you're from a group currently underrepresented in higher education, or have taken additional qualifications, you may be eligible for an alternative offer equivalent to one or two grades below the standard A Level entry requirements for your course. For more information see our Access Sheffield webpage:
If at any time you find that your studies are affected by personal, social or domestic issues, please let us know by completing our Disrupted Studies form:
If you have a disability, we would encourage you to indicate this in your UCAS application so that we can assess any support needs you might have. We do this separately from our academic assessment of your application. For more information about the process and the support available, see our Disabled Applicants webpage:
---
How we assess your application
You can find out what happens after you've submitted your application on our How We Assess Your Application page. This explains what we look for when we assess your application, how we let you know our decision, and the sorts of offers we make.
How we assess your application
If we need to contact you we'll do so by email, so please make sure that you check the email account you used for your UCAS application, and that this account is set to trust messages coming from @shef.ac.uk and @sheffield.ac.uk addresses. If you change your email address, please let us know by emailing us at study@sheffield.ac.uk, including your full name and UCAS ID. You may wish to add this address to your address book to avoid important messages being marked as spam.
Your results
We explain what happens when you get your exam results in our Your Results page. If we make you a Conditional offer and you accept us as either your Firm or Insurance choice, we'll also send you an email containing information about what happens when you get your exam results.
---
Browse our frequently asked questions, or ask a question of your own: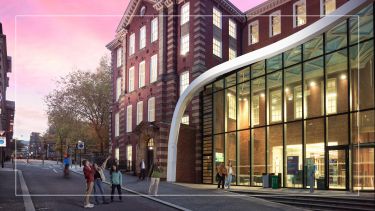 Visit us
Discover what sets Sheffield apart at our undergraduate open days on the Saturday 21 October or Saturday 18 November.