Clubs, societies and sport
Joining the University of Sheffield is only the beginning of something very exciting. You'll become part of a much bigger, supportive, fun and vibrant community of like-minded people.
Over 360
Clubs and societies to get involved with at our Students' Union
No 1
Students' Union for ten years running
Times Higher Education Student Experience Survey 2009-18
Top 5
in the UK for best overall student experience for eight years in a row
Times Higher Education Student Experience Survey 2018
Clubs and societies
There are over 350 clubs and societies to get involved with. You could help to write the student newspaper or climb a mountain. If there isn't a club or society for you, then you can start your own.
You don't have to stick to one thing. If you think your breakdance crew should get together with the Star Trek society, go for it, see what happens. If you don't have the time to go to anything regularly, our Give It a Go scheme lets you sample different clubs and activities on a pay and play basis.
Volunteering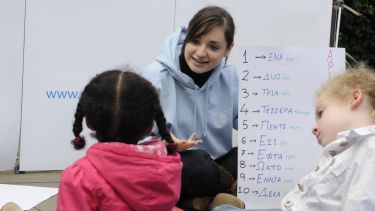 Our award-winning Sheffield Volunteering scheme offers you the chance to work with schools and charities. You can develop all sorts of skills – coaching, project management, leadership – in your spare time. It's a great way to build a powerful CV.
Thank you to our student volunteers
Each year, thousands of students from the University dedicate their time to help local organisations.
Sport can be anything you want it to be. Training to be a world-class athlete. Competing for fun. Or meeting friends and trying out something new.
We've got all the facilities to keep you motivated, including two full sized synthetic turf pitches, a fully equipped gym and fitness centre, and a fibreglass moulded bouldering wall. If you love the outdoors, the Peak District is right on your doorstep.
Considering I was never a particularly sporty person growing up, I really did not think a sports team was where I belonged. However, this couldn't be further from the truth. There is honestly something for every level and ability here. If I could give any advice to you, it would be to play a team sport. It is by far the best thing you will ever do at university!
Students' Union Sports Officer
Find out what makes you tick
You don't have to be a sports enthusiast. You might discover a hidden talent for Ultimate Frisbee. Or join a walking club and fall in love with the Peak District. Whatever your ability or experience, you're sure to find something that you love.
Our state-of-the-art fitness centre has a gym, fitness classes and heated indoor swimming pool with sauna and steam rooms.
Compete in Sheffield Varsity
Every year our students compete in Sheffield Varsity. We're proud to be the holders of the 2019 Varsity trophy.
I was amazed by how emotional I was - waving, shouting and feeling both joy and frustration, with hundreds of people sharing the same faith in our team.
We run one of the biggest Campus Leagues in the country – with entries from around 400 teams.
Sign up as part of a University club or just get together with some friends and enter your own team.
You could represent the University in national competitions. Or you could represent the University of Sheffield against other universities by getting involved in our BUCS teams and taking on fellow students each week.
We're ranked 17th out of 150 universities in the overall BUCS ranking 2018-19. Around 4,500 students represented the University in a diverse range of sports, including fencing, netball and badminton.
If you're an athlete competing at national or international level, our Elite Sports Performance Scheme (ESPS) will help you make the most of your talent.
Here alumna Bryony Page, who won silver at the 2016 Summer Olympics in Rio de Janeiro, talks about her Olympic experience and her time at Sheffield, including the support she received from Sport Sheffield.