Nothing is more important to us than your wellbeing. We provide a network of support services to make sure you're happy, healthy and secure, so you can get on with doing what you do best.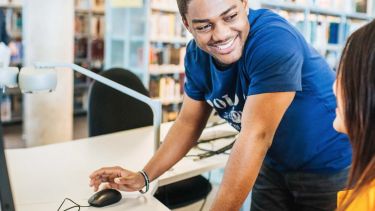 Practical help
Our Student Services Information Desk is run by dedicated professionals, trained to deal with your questions and concerns. The Student Advice Centre specialises in confidential advice on money and housing as well academic matters. Our Financial Support Team provide help with applying for scholarships and hardship funds.
Health and wellbeing
We offer a range of services to aid your health and wellbeing, including our own counselling service. You're welcome to register with our on-campus health centre. The centre has its own GPs and nurses and provides a range of NHS services.
Disability and dyslexia support
If you have a long-term condition or impairment that can affect your ability to study, we can provide specialist support throughout your time at university through our Disability and Dyslexia Support Service. The ELTC also provides one-to-one support for students with a learning difficulty such as dyslexia.
International student support
We support international students with visa and immigration information and also organise a range of social activities to help students get to know the city of Sheffield and each other.
I was scared that moving to university would mean my disability - an anxiety disorder - would go unnoticed and unsupported. However, the services at the University make me feel as though I am more than a number. They treat me as an individual.
Professional advice and counselling
The Student Advice Centre at our Students' Union is a free, confidential and professional advice service for questions about employment, money and housing as well as any academic or welfare matters.
If things aren't going right, we offer help and assistance. The University Counselling Service offers targeted self-help resources, specialist workshops, and group and individual sessions.
Faith
Whatever your faith or belief, our chaplains and religious advisers offer care and support to people of all faiths and none. We work with communities with a strong sense of belonging, and we offer opportunities for worship, prayer and spiritual exploration.
Childcare
The Students' Union runs a nursery for children aged six months to five years old. It's Ofsted registered (300762) and offers quality teaching and learning experiences for your child. Fees are subsidised according to family income. There are also play schemes during the school holidays for children aged 4 to 12 years.
The Disability and Dyslexia Support Service was supportive and non-judgmental, which is exactly what you need when worried about disclosing mental health issues.
University of Sheffield student