Our subject taster sessions help students experience what it's like to study at the University of Sheffield.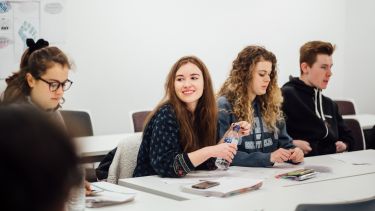 Our subject taster sessions offer students an opportunity to experience a university lecture or seminar, to get a taste of what studying at university is like. 
Our interactive sessions are available for Year 12 and 13 students who are considering their post-16 options. We have a wide range of subjects to choose from and our sessions are delivered both online and on-campus. 
On the day you'll join a group of other Year 12 and 13 students for an interactive seminar, lecture or workshop. During the session you'll learn more about your chosen subject, speak to our academic and teaching staff, and experience what it's like to be a University of Sheffield student. 
Online sessions
Our online sessions are delivered virtually.  You'll join an online event delivered by one of our academics in the subject area of your choice.
On-campus sessions 
Our on-campus sessions are delivered on the university campus. You'll attend a session in one of our learning and teaching spaces.
---
If you have any questions about taster sessions please email tasterdays@sheffield.ac.uk
---
Black History Month event
Tuesday 18th October, 10am - 3.30pm
The Model Minority Myth Workshop and History of Racism Film Screening
As part of the University's commitment to race equality and creating an inclusive campus, we are excited to bring you the following event as part of Black History Month. Participating students will enjoy a day interacting with current students and academics through a range of activities developed to stimulate discussion and explore themes related to race and slavery in modern Britain. The day will start with a workshop on the Model Minority Myth delivered by Dhyasa Morgan, BAME Students' Union Officer and end with a film screening of two short videos which look at the history of racism and explore themes of racism, immigration, the abolition of slavery and anti-racism resistance followed by a Q&A panel with academics involved in this research. This event is aimed at Y12 & Y13 students and will appeal to a broad range of subject interests. Bookings are welcome from school groups as well as individual students. For any questions about the event, please contact Seetal Jassal: s.jassal@sheffield.ac.uk.
Book here for individual students
---
Related information 
Explore the University
Discover what sets Sheffield apart at our next on-campus open day.