This page provides an overview of the standard requirements for entry to the University. This includes academic requirements, designed to ensure students are capable of succeeding on their chosen course, and general requirements that apply to everyone.
On
You must be proficient in written and spoken English, normally demonstrated by grade 4 or grade C or above in GCSE English Language or an acceptable English language qualification.
Because of the nature of certain subject areas, some courses require higher levels of achievement in English Language, or achievement in other GCSEs (for example GCSE Mathematics). Details of any additional GCSE requirements are included in our course entry requirements, available in our online prospectus:
Online undergraduate prospectus
---
We welcome applications from students studying a range of UK, European and international qualifications at Level 3 or above that offer suitable preparation for study at the University. Details of the qualifications that we consider for entry can be found on the following pages:
Other accepted UK qualifications
Accepted EU and International qualifications
---
All courses require you to achieve certain grades in your qualifications, and some require prior study and knowledge of specific subjects. Individual course entry requirements are listed in our online undergraduate prospectus:
Online undergraduate prospectus
The entry requirements listed in our paper prospectus may change. You should check the online prospectus for up-to-date information before you submit your application. Entry requirements for some courses may also change for late applicants (those applying after the January UCAS deadline).
---
We offer a range of foundation years which offer guaranteed progression to our degree courses upon successful completion.
Science and engineering
For engineering and some science courses, we offer foundation years designed to provide the science preparation necessary for entry.
Science and Engineering Foundation Year
Department for Lifelong Learning
Through our Department for Lifelong Learning, we also offer foundation courses in a range of other subjects designed for students who have non-standard qualifications, who have had a sustained period out of education or whose studies have been significantly disrupted.
Degrees with a Foundation Year
Pathway programmes for international students
International students can apply for an International Foundation Year programme at the University of Sheffield International College. Upon successful completion, students can progress to an undergraduate degree.
The University requires all applicants to be capable of undertaking a period of high-level study leading to a degree qualification.
We have specific procedures for the declaration of criminal convictions. Courses in Medicine, Dentistry, Speech Science, Orthoptics and Social Work also require you to undergo a full Disclosure and Barring Service (DBS) check.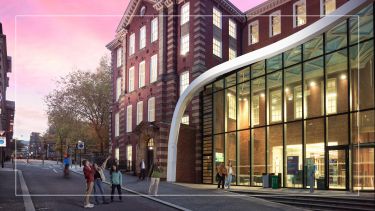 Visit us
Discover what sets Sheffield apart at our undergraduate open days on the Saturday 21 October or Saturday 18 November.