Before coming to university, it's important to consider the costs associated with university life.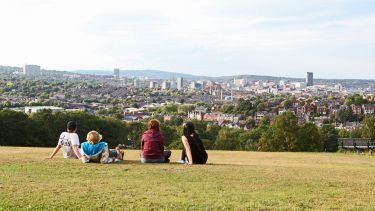 Off
---
---
Before you work out how you are going to spend your money, you will need to understand what level of income you are going to have.
As a student, you may receive income from a range of sources, including funding from the government (home fee-paying students), bursaries (home fee-paying students), scholarships, family or friends, your own savings, or a part-time job. You can visit our funding web pages or use our Student Funding Calculator to help you work out how much you may be entitled to if you haven't done this already.
Undergraduate fees and funding
Funding for postgraduate taught courses
---
Your living costs will vary depending on your lifestyle but we do have some guidance to help you work out what your own expenses may look like.
If you are moving away from home, the cost of accommodation is a really important factor to consider when looking at your finances.
Most students are guaranteed a room in our University accommodation, as long as they apply before the deadline. Your rent covers your utility bills, contents insurance and internet. There is a range of accommodation to choose from to suit different budgets; rent figures can be found online. 
University of Sheffield accommodation - rents
A TV Licence is not included in your rent and you should check whether you need to pay for one.
Money Saving Expert - Do I need a TV licence?
You can also choose to live in private accommodation; many students choose to do this after their first year of university. Smart Move Sheffield is run by the University and all properties on their search facility have been inspected by Sheffield City Council. 
Remember, if you choose to live in private accommodation, your bills may not be included - make sure you factor this into your budgeting.
Even if you are planning to live at home, your family may be expecting you to contribute financially - make sure you discuss this with them before planning your budget!
Depending on where you live, you may need to catch public transport to travel to University.
If you are planning to commute via train, consider whether it would save you money to buy a railcard. It's worth noting that some student bank accounts may include this when you open a student bank account with them - please refer to the section subtitled 'Opening a student bank account' for more information.
There are also a range of student tickets for the bus and tram in Sheffield that may be suitable for you. Find out more information on the Travel South Yorkshire website.
Travel South Yorkshire - Student tickets and passes
When looking at whether it's worth purchasing tickets, consider how often you will need to be on campus - remember that our University accommodation is within walking distance!
You can earn rewards for travelling to the University on foot, by bike or by using public transport using the BetterPoints app.
For clarification about what is included in your tuition fee and what costs are excluded from this that you may need to consider, you can find out more information on our website.
Tuition fees and additional costs
Don't forget that you may be able to use University resources to help reduce costs, ie check the University Library's catalogue for textbooks you may need for your course which may be available to borrow at no cost.
You could also check out book shops or online stores to see if textbooks are available second-hand.
You may also find it useful to visit your department or course page to check for details of any specific costs.
You should also consider any other costs, such as food, toiletries, clothes, laundry, social activities, and your mobile phone. If you have children, childcare costs or nursery fees also fall into this category.
Costs can vary depending on where you shop, what you buy, and the other ways that you spend your money. Save the Student have published the results of their latest National Student Money Survey, providing figures for expected average living costs based on information that current students have provided. Some key average costs are highlighted below:
| Expense | Cost per month |
| --- | --- |
| Groceries | £116 |
| Going out | £59 |
| Takeaways and eating out | £49 |
| Clothes and shopping | £35 |
| Mobile phone | £18 |
Please see their website for more details about the figures and tips and advice on spending.
Save the Student - Student living costs in the UK 2023
Tips:
Check out the different loyalty schemes available at different supermarkets and compare supermarket prices.
Money Saving Expert - Supermarket shopping tips
Which? - Supermarket price comparison
Try to plan your meals and stick to a shopping list, rather than doing your shop on an empty stomach or spontaneously ordering food often.
Use a Community Fridge, a space where anyone can share food to combat food waste, either by bringing food to leave in the fridge or by taking food from the fridge to use themselves. We have some in residences and at the Student's Union. 
University of Sheffield accommodation - Community Fridge
The University's cafes and bars use the GeniUS reward scheme; sign up and keep your eye out for offers and discounts.
Buy second-hand where you can; it's better for the environment too! Our Students' Union also has a clothes Swap Shop where you can refresh your wardrobe at no extra cost.
You may be eligible to apply for the NHS Low Income Scheme (LIS), which may help you cover things like prescription costs. Find out more information on the NHS website.
Refer to the 'Managing your money' section for more information about how you may be able to benefit from a student bank account and student discounts to help reduce your spending.
If you are an international student, you will also need to consider additional costs, such as those for a visa or travel to another country.
The British Council provides some information on their website for international students considering coming to the UK to study.
British Council - Cost of studying and living in the UK
---
Once you know your income and have considered what outgoings you are going to have, you can start to plan your budget in more detail. When making a budget, it's important to work out what you need to spend your money on first before considering what you may want to spend your money on.
Add up your income.
Deduct your essential outgoings.
Whatever is left over is for you to spend on the things that you want.
If you find that your outgoings exceed your income, consider whether this can be increased, eg through part-time work, or whether you can reduce your expenditure in some areas.
We have a Money Planner that you can use to help you with your budgeting. 
Alternatively, your bank may have a tool you can use or there are various platforms online that have budgeting tools available; there is also a lot of great support online to help you with budgeting and provide advice on how to be financially savvy. 
Student bank accounts are designed for those in higher education. It's worth checking out what is available as student bank accounts can often include benefits which can really help you out. 
Students from the UK
Sites like Money Helper, Money Saving Expert and Save the Student have useful web pages to help you compare the accounts that are available.
Money Helper - Student and graduate bank accounts
Money Saving Expert - Student bank accounts
Save the Student - Best student bank accounts
If you do change your bank account, remember to keep your student finance details updated so that any money you're expecting goes to the right place!
International students
The offers available to international students may vary so check terms and conditions for full details.
Save the Student - Top UK bank accounts for international students
Student discounts are offers on a product or service that are only available to students. Usually you will need to show a student ID or Totum card, or sign up using a university email address. 
You can find student discounts at a range of shops and services, including streaming services such as Spotify. Have a look online to see what's available - if in doubt, ask!
Money Saving Expert - Student discounts and deals
Save the Student - Student discounts
Which? - The best student discounts and how to get them
---
The University provides information and updates from the University in response to the rising cost of living. Find out more information about all the support on offer from the University and Students' Union on the University web pages, including details about free facilities and Students' Union offers and discounts.
Cost of living support for students
---
Scams can come in many forms but generally they involve someone trying to steal something (often money) from you. 
It's important that you know how to spot the signs of a scam and the most effective methods to protect yourself and your money.
Money Helper has a really helpful beginner's guide to scams.
Money Helper - A beginner's guide to scams
You may also find the following information useful:
Action Fraud is the UK's national reporting centre for fraud and cybercrime. Their web pages include information about types of fraud to look out for and how to report fraud if you have been scammed, defrauded or experienced cyber crime in England, Wales and Northern Ireland.
Your bank will normally provide information and guidance about how to protect yourself from fraud; search their website for more information.
---
If you need to discuss your financial situation with someone, you can contact the Student Advice Centre in the Students' Union (both prospective students with an offer and current students). 
They have also provided some useful money management information online, available to all.
Student Advice Centre - Money Management
If you are a prospective student and have any other general enquiries, you can find out more information about the different ways of contacting us on this web page.
A world-class university – a unique student experience
Sheffield is a research university with a global reputation for excellence. We're a member of the Russell Group: one of the 24 leading UK universities for research and teaching.