The GeniUS reward scheme can be used in any of our cafes and bars across campus and at the residences. Account top-ups can be made on the go and the best news is, it's available to any University of Sheffield student and staff.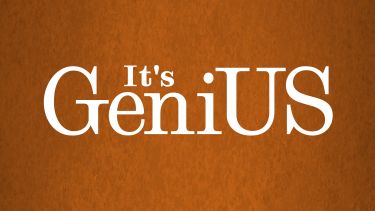 Off
How the GeniUS Reward Scheme Works
Download the GeniUS app to enable you to redeem points and take advantage of special offers and vouchers
Register your account through the app or online
Add cash - credit your account with as much or as little cash, as frequently or as infrequently as you like – it's GeniUS.
Earn points! For every £1 you spend, you'll receive 5 points, each point is worth 1p!
Redeem! Spend your points on food and drink across campus
Download our free app
The GeniUS app is available on both the Apple and Google Play stores. Simply search 'Genius Reward Scheme'
Manage your account
GeniUS Rewards
The GeniUS reward scheme give you 5 points for every pound you spend. With each point worth 1p, you'll soon save up enough points for a well-earned treat.
The GeniUS reward scheme is a great way to collect points and ease those hunger pangs all at the same time. It's available to all students and staff and can be used in any GeniUS venues across campus and in the residences.
Whether you're after a bacon butty to kick start your day, a hearty home cooked lunch, or a freshly made fruit smoothie to put a zing in your step, our fantastic venues are a great place to catch up with friends and colleagues over lunch or grab a quick coffee on the go.
Keep your eye out for offers and discounts available exclusively for GeniUS reward scheme holders throughout the year, including two free hot drinks on your birthday!
GeniUS Cash Account
For super handy cashless payment at any of our outlets, you can add cash to your GeniUS account, and you'll earn points on everything you spend!  Your parents can even add cash to your account for you! To add cash to your GeniUS account, just login and follow the instructions to use your GeniUS app/card for cashless payment.
GeniUS hospitality for staff
The GeniUS Hospitality Card comes in handy when arranging to buy refreshments for guests and meetings. Your Hospitality Card can be loaded up with any amount of money by contacting our team on +44 114 222 8999. It's perfect if you're often out and about on campus.
To buy a GeniUS Hospitality Card, please contact the Delivered Catering team via the contact us page on the withUS website.
---
What is the GeniUS reward scheme?

It is a food and drink rewards scheme that packs three benefits in one pocket-sized masterpiece; 5p for every £1 you spend, top it up to use as a cash card and receive exclusive offers and discounts open only to registered GeniUS members – It's GeniUS.

How does the GeniUS reward scheme work?

Whenever you spend at any of our outlets across campus you can earn points. Every £1 you spend will get you five points, this is equivalent to 5p.

Simply tap your card or scan your mobile app at the till when making your purchase to earn your points.

You can collect points straight away but you will need to register your account before you can spend them.

Not only can you earn points whenever you spend but you can also top up your card with cash and earn exclusive vouchers.

How do I register my GeniUS account?

Head over to our GeniUS registration web page and fill in your details, it's as easy as that.

Once you've registered you'll receive an email with a link to open which will validate your account. Validate your account and you're good to go.

How do I spend my points?

When you are at the till simply tap your card or scan your app when prompted.

You'll be able to see how many points you've got available and the staff member will ask you if you'd like to use them. You don't have to use your points and they don't expire so you can save them up for a special treat.

Can I use my GeniUS reward scheme anywhere on campus?

You can use your GeniUS reward scheme across any of our cafes, coffee shops and bars. Certain outlets located within the Students' Union are run independently.

Can I use my GeniUS points on anything?

Almost. You can use your points across campus on anything you wish except for alcohol or cigarettes.

How do I get vouchers and can I use them?

You will receive vouchers on your account throughout the year. You'll get a couple of free coffee vouchers on us for your birthday as a little treat and you'll be able to earn others through special offers and giveaways.

To redeem a voucher just scan your card or mobile app at the till and, much like with your points, the staff member will be able to let you know if you have any vouchers available and ask if you want to use them.

Some vouchers will have an expiration date on them so make sure you don't miss out.

How can I check what vouchers I have available?

You can log into your GeniUS account to view your vouchers, there is a vouchers tab on the left-hand side.

This will detail what the voucher is, how many you have and whether it has an expiry date or not. You can also view your available vouchers on your mobile app.

Can I add money to my GeniUS account?

You can top your GeniUS account up with money and use it as a cash card in any of our outlets. You can spend your money using your card or your mobile app. You can add money by logging into your GeniUS account or through your mobile app.

Can I top up my students' GeniUS account as a parent/carer remotely?

Yes. Simply login to the account using the set up login details and password and follow the on-screen instructions. You can do this as little and as often as you wish.

What if I lose my card?

Don't worry, just log in to your account or your mobile app and mark the card as lost. This will prevent it from being used if somebody finds it.

You don't need a GeniUS card to use the scheme, you can do everything with the GeniUS app. We are no longer issuing replacement cards as standard as we move to a plastic free scheme. If you don't have a phone that supports the app, then you are able to pick up a card from any GeniUS outlet across campus and add it to your account.

You don't need to register again, just log in to your current GeniUS account and add the new card number, this is located on the back of the card in the bottom corner.
---
Terms and conditions
View all terms and conditions

1.  GeniUS accounts are registered and managed by the account holder by downloading the Genius reward scheme app.  Genius cards are no longer issued, however existing cards in circulation remain valid, (noting that they must be attached to a genius account before loyalty points / vouchers can be redeemed).

2. Any cash value on accounts is used to purchase food and drink items, which are individually priced.

3. The GeniUS reward scheme can be used while ever you are at the University as a registered student or a staff member.

4.   Loyalty points are only added if an app (or card) is scanned at the time of a purchase being made.  Points will not be added retrospectively.

5. There are no refunds for any unspent account balances relating to former catered accommodation. This is because balances were an inclusive part of the room rent charged and governed by the Residences Contract.

6.  Cash balances (i.e. the account has been topped up online and not linked to accommodation (see 5 above) may be refunded in exceptional circumstance less an administration charge of £10.

7. The app (or card) must be presented for all transactions; for cash balance redemption, the provision of items will be refused without presentation such, and you will be required to use an alternative payment method for any purchases made.

8. Cash balances may not be used for purchases of alcohol, cigarettes/tobacco, event tickets, laundry and room bookings. Other exclusions apply.

9. Where a card is used, it has a microchip embedded in it. Please take care not to damage the card – it should not be bent, punctured or defaced in any way. Do not attach your card to a key ring.

10. If you lose your phone (or card) you must block it via the web portal. You are liable for its use until you have blocked it.

11. The University will not be responsible for any losses incurred on lost or stolen cards or phones.

12. Accounts (and cards) are not transferable and must only be used by the registered account holder. Misuse of the account may result in disciplinary action being taken.

13. The University retains the right to block accounts not being used by the registered account holder.

14. The University accepts no liability if unable to accept card payments, or reward loyalty points due to technical problems.

15. Accounts are only valid in university cafes/bars managed by UNICUS Sheffield Ltd. They are not accepted at Halifax Hall Hotel or The Village Store. Other exclusions may apply.

16. The University of Sheffield shall not be held responsible, or deemed to be in breach of service, by being unable to provide services in any catering outlet due to force majeure or any other cause beyond the University's control.

17. Terms and conditions are subject to change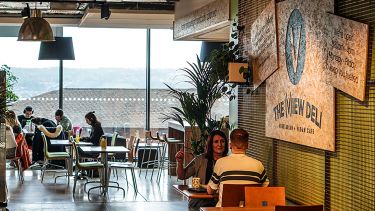 Find our venues
Use our interactive map to find any of our food and drink venues across campus.