We value international students and are passionate about ensuring that their contribution to our economy and culture is recognised. That's why we launched the #We are international campaign. Now the UK Council for International Student Affairs is driving forward the award-winning campaign.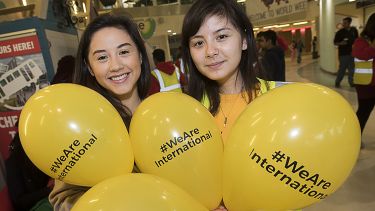 On
We launched #WeAreInternational in 2013 as a collaboration with our Students' Union. Over 160 universities, education institutions and international organisations backed the campaign. Find out more about the roots of our campaign, how it's grown and the impact it's had.
Report demonstrates £120 million benefit of international students

We realised that the positive impact of international students had been buried. So in response, we wanted to stand together with academics, students, the community, city leaders and other partners to show that Sheffield is a city that says no to prejudice and one that values its international students.

More importantly, we needed to influence the debate to ensure the contribution that international students make – not just financial, but to the knowledge base, economy and culture – was celebrated here in the UK and communicated more widely to the world.

In 2013 we commissioned a report from Oxford Economics that showed international students in Sheffield are responsible for pumping over £120 million into the city economy over a single year – that's 10 per cent of inward investment in Sheffield.

The report, launched at the Houses of Parliament, sparked a parliamentary debate on the importance of international students and later led to the University of Sheffield's Students' Union President and International Officer being invited to parliament to make the case for international students as the controversial immigration bill returned to the House of Commons.

Our research also highlighted that international students are ingrained in city life. They work on placements in our hospitals and businesses; they volunteer for over 140 Sheffield charities and schools. They also enrich the cultural life of the city through a spectacular programme of music, food, dance and language events all year round, many of which are organised through our very own Students' Union.

Going national – and international

After publicising how international students benefit a major UK city like Sheffield, we were keen to expand this to a broader campaign with the support of all universities, students' unions and all those who are concerned about international students in the UK.

The campaign was supported by more than 160 UK universities and colleges, the British Council and the Home Office.

We forged links internationally, working closely with representatives from Temple University in Philadelphia, USA who used We Are International as an inspiration for their own #YouAreWelcomeHere campaign, set up in response to the new administration's policies on immigration.

Campaign milestones

2013

Oxford Economics report launched at the Houses of Parliament that showed international students in Sheffield are responsible for pumping over £120 million into the city economy over a single year – that's 10 per cent of inward investment in Sheffield. The report sparked a parliamentary debate on the importance of international students.

2014

We Are International wins the Internationalising the Student Experience category at the National Union of Students (NUS) and UK Council for International Student Affairs (UKCISA) Internationalisation Awards.
The campaign wins best International Student Strategy award at the THE Awards.

2016

Campaign relaunched following the EU referendum and the decision to leave the European Union with a statement of solidarity between the University of Sheffield, Sheffield Hallam University and Sheffield College.

2017

The main campaign video received nearly 120,000 views across all channels since its relaunch in September 2016.
The campaign received a gold 2017 Council for Advancement and Support of Education (CASE) award for Making the Case for Internationalism in UK Higher Education.
---
A survey of 62,000 ​prospective international students found that the degree to which a study destination is perceived as welcoming and safe is one of the most important factors in student decision making.
84 per cent of prospective international students (Hobsons' International Student Survey, 2017) said campaigns such as #WeAreInternational positively influenced their perception of the UK, and that the higher education sector should build upon and expand these efforts to encourage international students to keep on coming.
In Sheffield we are very proud of this campaign, the impact it has had on international students and the positive UK policy changes it has helped to facilitate. #WeAreInternational grew organically from the University of Sheffield and developed into a campaign that others can pick up and use freely when offering a warm welcome or advocating for the rights of international students.

Professor Koen Lamberts

President and Vice-Chancellor at the University of Sheffield and Chair of the UKCISA Board
---
The UK Council for International Student Affairs (UKCISA) and the University of Sheffield announced a new chapter in the development of the #WeAreInternational campaign in 2019.
UKCISA is now driving the award-winning campaign forward – supporting it to reach even more international students across the education sector by capturing and sharing the voices of students from universities, colleges, schools, pathway providers and study abroad programmes.
The campaign is open to all who support and welcome international students.
Speaking about how students can get involved in the campaign, Sheffield Students' Union International Students' Officer Mengya (Sissi) Li said: "When I came to Sheffield as a postgraduate student the #WeAreInternational campaign helped me feel welcome in a brand new city right from the start, giving me the confidence to run in a competitive election and represent international students.
"Sheffield is renowned for being an inclusive and welcoming place to live, something I can attest to, so it's no surprise that #WeAreInternational, one of the most impactful international campaigns, was founded at Sheffield Students' Union. I'm excited to see the next chapter of this campaign led by UKCISA as they open it up to more people than ever before, helping them feel at home in this country regardless of where they're from."
A global reputation
Sheffield is a research university with a global reputation for excellence. We're a member of the Russell Group: one of the 24 leading UK universities for research and teaching.