Cost of living support for students
Find all the support on offer from the University and Students' Union - from financial help, to free facilities and discounts across campus.
Financial support
Cost of Living Fund
The University has committed money to support students facing financial difficulties due to the rising cost of living.
If you are facing financial difficulties due to the increased cost of living, you can apply for a one-off, capped payment.
Financial Support Fund
If you are facing financial difficulties due to unforeseen costs, or exceptional circumstances, you can apply to the Financial Support Fund.
Facilities on campus
University Library
Support is available during your studies, including free to access books, and warm, welcoming study spaces.
Loan equipment for your project for free
The Creative Media Service provides equipment, facilities and training to support you with your video, audio, photo and other digital media projects. All equipment is free to book and borrow. 
Borrow a laptop for free
You can borrow a laptop in the Diamond or Information Commons (IC) for free. Find out how to pick one up and what you can do with your loaned laptop.
Use a PC for free
University Desktop PCs are also available for use in one of our open access rooms on campus.
Facilities on campus
Find out where you can access free hot showers and device charging stations.
Free events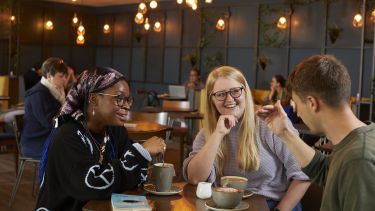 Global campus
A programme of free, regular events open to all students with opportunities to make friends and socialise in warm spaces on campus this autumn/winter.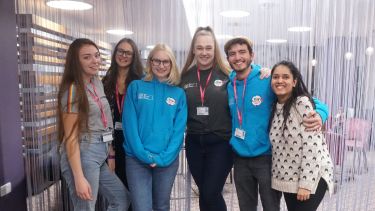 Residence Life events
If you live in University accommodation, there are regular, free events to meet new people and try new things, from five-a-side football, dance lessons and weekly fitness classes to music lessons, film nights and cultural celebrations.
Support from the University
Mental health and wellbeing
Understandably, this may be an anxious time. If you need mental health or wellbeing support, help is available.
Discounts and offers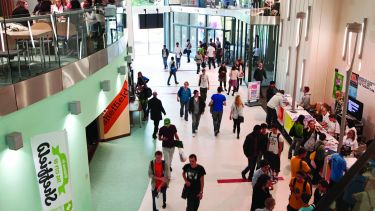 Students' Union offers and discounts
Look out for money saving meal deals in our Students' Union outlets to help you in the current financial climate.
Financial and career advice
Working while you study
The Careers Service and Student Jobshop can support you in finding a part-time job that fits around your studies and boosts your skills.
Managing your money
Find support and advice to help you manage your finances, budget and save money while at university.