Environment and sustainability
We know you care about the environment, we do too! Here are some of the ways that living in accommodation at The University of Sheffield helps you to incorporate sustainability into your day to day life.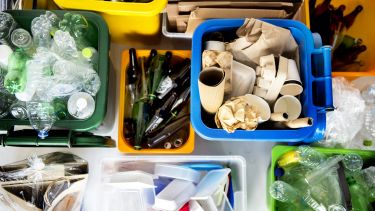 In every kitchen in our residences there are facilities to recycle paper, card, plastic, tins, and glass. Help us, help the world and recycle your rubbish.
---
In the residences we have three waste bins; general, recycling and food waste.
Please use black bags for your general waste rubbish.
Recycling waste needs to be loose in the external waste bins - no black bags. You can use black bags in your flat recycling bin, but when you throw it into the external bins please keep the bag out. 
Compost caddy/food waste caddy can have any type of bag inside.
The food waste carrier bag needs to be emptied into the food waste bin in your nearest bin store. Please put the carrier bag in the general waste after use. 
For more guidance on what can be recycled, contact Andy at greenteam@sheffield.ac.uk
---
The free shop runs twice a year, September intro weekend and early February.
People can get free items for their kitchens such as pots, pans, crockery, coat hangers, woks, clothes horses and many more that have been donated by past residents of the University.
This is a great way to save a bit of cash and re-use donated items instead of throwing them in the landfill. 
If you are planning on bringing a few new items from home, contact your new flatmates via our facebook groups to make sure you don't bring multiples of certain items. 
---
So you've bought too much food or your plans have changed and there's food left in your fridge about to go off. Now you can drop food items off at the Community Fridge and someone else can make sure it doesn't go to waste. Similarly, if you're on a tight budget and money is tight, the fridge is an excellent option for you.
The community fridge is a place to drop off your surplus food that was destined for the bin, or pick up a snack or items for a meal when you're short on food or cash
Why is there a Community Fridge?
Accommodation and Commercial Services, in collaboration with the Students' Union, aims to tackle food wastage in the residences by encouraging students to share unwanted food.
Food waste is a big issue in the UK. The average household throws away £470 worth of food every year and at the same time 4 million people in the UK are living in food poverty. Most food waste in the UK (4.1 million tonnes or 61%) is avoidable and could have been eaten had it been better managed.
Where is the Community Fridge located?
There's one in The Edge Hub and one in The Ridge Common Room.
Who can use the Community Fridge?
Everyone! The food in the fridge needs to go, so please don't be shy, it's there for you.
Over 40 tonnes of food has been donated by students, local stores and our own in house catering teams to be used by students and the local community
---
We are always looking for new and innovative ways to improve the environmental and ethical impact of our cafes & bars on the local community, nationally and even globally. 
We look to local suppliers wherever possible and have developed productive partnerships with Sheffield based milk suppliers Our Cow Molly and coffee roasters Roastology. These partnerships spread further than just Sheffield, with Roastology, along with the University, helping to develop the wellbeing of the Colombian farmers who source the coffee beans we use.
A major problem everyone is facing is the increased waste and use of plastic. We have introduced sustainable initiatives into our cafes & bars that directly address this issue, such as stainless steel milk churns that cut out the use of tens of thousands of plastic milk bottles.
Learn more about sustainability in our cafes and bars.
---
We've worked with local charity The Archer Project on a number of wonderful initiatives, from using sausages donated by Waitrose to feed the homeless to our annual Christmas clothes donation. You can find out more about these projects here:
As cycling is one of the greenest ways to travel and Sheffield is one of England's greenest cities, we thought we'd give our residents the opportunity to purchase bargain reconditioned bikes to enable them to hit the road on two wheels. The cycle sales have proved extremely popular, with the bikes all selling out within minutes.
Dr. Bike has also paid a couple of visits to the residences to offer safety advice, cycling refresher lessons and to carry out minor repairs.
There are plenty of cycle storage facilities across the residences and on campus.
 Get in touch with us to find out about cycle storage in the residences.
*Cycles are stored at your own risk.
---
If you are interested in helping to reduce our environmental impact then we need you. We need enthusiastic volunteers to help raise awareness across student accommodation. Ambassador will help to drive behavioural change in the students and promote environmental and sustainability improvements and best practices across the residences.
The Green Ambassador will be a role model who is actively conscious of the student accommodation environment. You'll help organise and promote environmental and social events with the Environmental Team, help ensure that University products are sustainable, look for ways to educate fellow students about sustainability so that it becomes part of students' lives, and more. 
Don't worry - you will be provided with training and support through meetings, workshops, forums and presentations and occasional site visits or emails.
We're committed to doing our bit for the environment and try to make it as easy as possible for our residents to do their bit too. Here are details of just some of the green things going on in University accommodation at the moment.
If you would like to get involved and make a difference please contact Andrew Woffindin on 0114 2226040 or at a.woffindin@sheffield.ac.uk.
---
Twice a year we run a clothing and household goods recycling scheme, which enables students who are moving out or just having a spring clean to donate their unwanted items to charity.
S6 has collected 5.4 tonnes of food equating to nearly 10,000 meals
The recycling scheme has been running for seven years and has gone from strength to strength, enabling our three local charities to benefit greatly from generous donations. Last year we not only met the previous year's collection total of 3.5 tonnes but absolutely smashed it!
Sheffield Greyhound Trust has collected over 800 items of bed linen and duvets, which have been used as bedding for dogs
If you don't donate bed linen/duvets they get taken to a landfill where in 50 years they will still look exactly the same, as they take hundreds of years to decompose. 
Other local charities, including St Vincent's De Paul and Aid for Gambia, have benefitted from donations by students - they've used donations to make up bedding and pan sets that went directly to vulnerable people and those coming out of homelessness, saving them an amazing £30,000.
For more information about our recycling scheme, please email Andrew at greenteam@sheffield.ac.uk
Over 10,000 British Heart Foundation bags have been collected across Sheffield since 1st April 2019, which amounts to over £100,000 raised for the BHF and 60 tonnes of items diverted from the waste stream.
A world top-100 university
We're a world top-100 university renowned for the excellence, impact and distinctiveness of our research-led learning and teaching.