Explore your living options
From modern, purpose-built accommodation to refurbished period buildings full of character, homes at Sheffield Uni all meet the same high standard – and come with the chance to live the way you choose.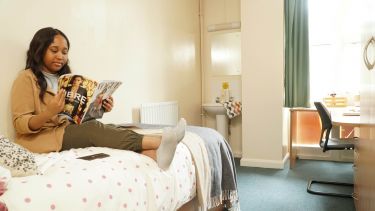 On
Live authentically
Creating a safe, welcoming, and inclusive community for everyone is our priority. 
That is why we are proud to offer dedicated accommodation for LGBT+ students, those who want a quieter place to live, and single-gender flats, too. We also have dedicated accommodation for Postgraduate students. 
Join students drawing on their shared experiences to help foster supportive spaces for people of all identities. Simply click these options when you select your preferred home, or list it as one of your preferences.
Questions about alternative accommodation?
residentsupport@sheffield.ac.uk
0114 222 9237
Find the right room
There are options to suit most budgets and lifestyles, and specially adapted rooms for if you have a physical disability or medical condition.

In all of our accommodation, your monthly rent will cover the cost of utility bills (gas, water, electric, internet), wifi and contents insurance up to £5,000, or £7,500 for families. You can set up a payment plan, so your rent only comes out of your bank account once your student loan has been paid in.

And that's it!
Take a look, and find a home today
Shared bathroom

Cheaper than en-suite rooms, a standard room is your own, cosy private space that also puts you right in the mix with your fellow students – sharing a kitchen, bathroom facilities and the adventure of living together. 

There are 694 standard bedrooms in houses and flats across Ranmoor & Endcliffe. 

Crescent Flats
Crewe
Crewe Lodge
Endcliffe Houses
Stephenson (catered)

Catered accommodation

You can choose a part-catered standard room at Endcliffe, which includes three meals every week day, during semesters. Choose from a varied menu and eat at any of our 17 cafes throughout the day. In the evening, enjoy a selection of meal options at the Edge. 

En-suite rooms

En-suite rooms are a popular choice for students, you'll get your own bathroom attached to your bedroom. Just like with a standard room, you'll share a kitchen and living area with your flatmates.

There are 3347 en-suite bedrooms in flats across Ranmoor & Endcliffe

Birchen
Burbage
Cratcliffe (Postgrads only)
Curbar
Derwent
Froggatt
Howden
Kinder
Lawrencefield
Millstone
Ramshaw
Ravenstones
Rivelin
Stanage
Wimberry
Windgather
Yarncliffe

Deluxe

Deluxe rooms typically offer more floor space and/or a bigger bed, and are available in en-suite or shared bathroom properties. As with other properties, you'll share the kitchen and living space with your flatmates. 

There are 80 deluxe en-suite and 62 deluxe shared bathroom rooms across Ranmoor & Endcliffe

Ensuite

Burbage
Cratcliffe (PG only)
Howden
Rivelin

Shared bathroom

Endcliffe Crescent 
Oakholme Road

Studio

Great for couples or if you just want loads of space, Studios come in two types

Studios at Laddow
Completely self-­contained with their own kitchen facilities, living area, double bed, two desks and two wardrobes. There's a large en-­suite shower room and toilet.

Studios at Wimberry, Windgather and Kinder 
These include everything except a washing machine, and have limited cooking facilities, so if you want to use the oven you'll need to use the communal areas.

Families and couples

Family homes include 1, 2 and 3 bed properties, all within easy reach of the main University buildings. These homes come with gas central heating and most have wifi included. Because of high demand, we can't guarantee accommodation for you and your family. However, we will do our best to help you find somewhere to live.
Shared bathroom

These properties are ideally located and are a cheaper option whilst living centrally in Sheffield. You'll share bathrooms, kitchen and living areas, and have your own bedroom.

We have 238 shared bathroom rooms across City residences

Broad Lane Court
Mappin Court (PG only)

En-suite/En-suite +

City centre living at its finest, we've got a great range of en-suite rooms in the City. En-suite + rooms are only available at Allen Court and have a larger bed.

We have 1,425 en-suite or en-suite + rooms in our City accommodation

Allen Court (en-suite +)
Broad Lane Court
St George's Flats (returner property)
St Vincent's Place

Deluxe +

Specific to Allen Court, these rooms have a double bed for extra comfort and an en-suite bathroom.

We have 133 deluxe + rooms in the City residences
Semester 2 accommodation
Applications for Semester 2 accommodation are now open. We're pleased to offer a choice of locations and room types across our residences for Semester 2 arrivals in February 2024. We look forward to welcoming you to Sheffield.