Returners - We Got You
Want to stay in Sheffield's largest student community, where all bills and facilities are included, with rent being held at the 2022/23 rates on some of our most popular properties? We got you.
Applications are open for you to return to live in University accommodation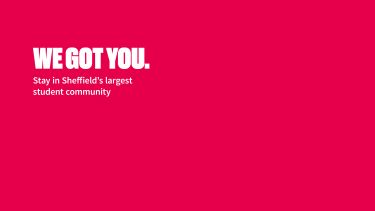 We're holding rents at the current 2022/23 rate on all returner properties, rolling over deposits, and there's £250 of vouchers available with selected residences*.
Book your room now!
We're committed to supporting you in University accommodation
Return to live with us and make the most of all the great benefits that come with it - from access to the free 24/7 Fitness Suite at Ranmoor to contents insurance as part of your rent. Plus if you've already got a deposit with us, you can carry it over and pay nothing until October 2023.
Choose your room type and location
*Terms and conditions apply for the £250 voucher. Click here to read the full terms and conditions.