Make a house a home with one of our great returner properties.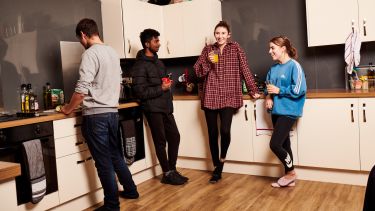 Off
If you want the comforts of home with the benefits and ease of all-inclusive University accommodation, then take a look at our diverse range of houses. 
Located on the outskirts of the Endcliffe site, these houses are a great choice for those who want to move away from the typical student flats into something more familiar. You'll have access to all the facilities at Ranmoor/Endcliffe, including 24/7 Customer Services and so much more. 
All rents on University houses are being held at the 2022/23 rate. Different room types are available in some houses, giving you options depending on your budget.
Undergraduates
| Property | Room type | Contract length | Price (annual) |
| --- | --- | --- | --- |
| Crewe Lodge | Shared bathroom | 42-weeks | £4,248.30 |
| Endcliffe Avenue Houses | Shared bathroom | 42-weeks | £3,436.86 - £4,033.68 |
| 26 Oakholme Road | Shared bathroom | 51-weeks | £5,894.07 - £6,611.64 |
| Red Lane | Shared bathroom | 42-weeks | £4,248.30 |
| Red Lane | Shared bathroom | 51-weeks | £5,158.65 |
Postgraduates
| Property | Room type | Contract length | Price (annual) |
| --- | --- | --- | --- |
| 30 Endcliffe Crescent | Shared bathroom | 42-weeks | £4,883.34 - £6,294.54 |
| 30 Endcliffe Crescent | Shared bathroom | 51-weeks | £5,929.77 - £7,643.37 |
| 8 Oakholme Road | Shared bathroom | 51-weeks | £5,894.07 - £6,611.64 |