Additional funding for postgraduate study
There are other forms of support and funding on offer to help you with your postgraduate studies at Sheffield.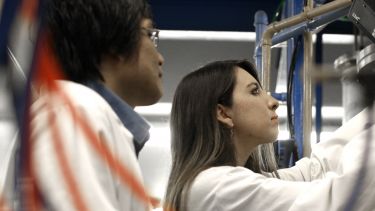 Scholarship
Details

This guide is all about alternative sources of funding - especially charities - which can make awards to any student regardless of subject, or nationality.  Simply click 'login' if you are on campus or register using your student email address (ends in @sheffield.ac.uk).  If you are a prospective student please email funding@sheffield.ac.uk to obtain a Pin number. You can also obtain the password from funding@sheffield.ac.uk.

Loans for all postgraduate taught masters students under 60

Loans for postgraduate research students

The University of Sheffield is able to offer a number of AHRC scholarships

Fee scholarships for arts and humanities masters applicants

Aziz Foundation scholarships
The Aziz Foundation offers masters scholarships to British Muslims who are committed to making meaningful contributions to society. Scholarships are available in subjects relating to law, media, journalism and policy.
BIALL Professional Studies Bursary
The fund aims to support a BIALL member, who is committed to working in and contributing to the Legal Information profession, undertaking postgraduate information/library studies in the United Kingdom or Republic of Ireland. 
Commonwealth Masters Scholarships

Scholarships for candidates from low and middle income Commonwealth countries, to undertake full-time taught Master's study at a UK university.

Commonwealth PhD scholarships
Scholarships for candidates from least developed countries and fragile states in the Commonwealth, for full-time doctoral study at a UK university.
Consejo Nacional de Ciencia y Tecnología (CONACYT)
Mexico's Consejo Nacional de Ciencia y Tecnología (CONACYT) offers scholarships to Mexican students wishing to study a postgraduate degree in the UK.

A range of scholarships for students undertaking an MSc in the Department of Economics

Gives graduates access to more affordable loans to study for a masters degree in another country

Future Finance provide loans to students. University of Sheffield students who use this link to access the website will benefit from a discount on the loan administration fee. Further details of eligibility requirements, interest rates and other key terms of the loan are available by visiting the Future Finance website. Please note, we encourage you to look for other sources of funding before taking out commercial loans.

The trust applies to women who are from an immigrant or refugee background and who intend to practise or teach law in the UK

James Pantyfedwen Foundation
Grants towards tuition fees of up to £5,000 for postgraduate (taught and research) students from Wales. Terms and conditions apply.   
Journalism scholarships
These awards are available to students studying an MA degree in journalism.

Aims to increase social diversity in the legal profession by supporting promising entrants from disadvantaged backgrounds or those who face exceptional obstacles to qualification. Eligible aspiring solicitors must be ready to undertake the LPC in September

Funding opportunities for law students

The Leverhulme Trade Charities Trust offers financial support for grocers, pharmacists, commercial travellers and their families who are in financial need. Please note that if you apply The University will be sent an electronic confirmation form which will be verified using data held on your student registration record.

Masters Compare Scholarship
£5,000 scholarship from Masters Compare, an online course comparison site.

Funding information for PGDE students

Prizes

 Various awards are available to students within each faculty.

Funding available to support students studying architecture

Sanctuary  scholarships
Scholarships for students studying postgraduate masters courses

The Scholarship Hub allows you to search for scholarships, grants or bursaries for postgraduate study

The Snowdon Masters Scholarships is for national and international disabled students applying for a master's programme at any UK institution that starts in 2022.

£8,000 awarded to one student towards a masters degree or MBA in a 'fintech' related field (e.g. finance, management, business, computer science,
engineering)

UK Research and Innovation (UKRI)
Search current funding opportunities from across UKRI, research councils and Innovate UK
Yorkshire Ladies' Council of Education
Grants are available for eligible students to support course fees.