We have an international reputation for teaching and research. This ensures that our postgraduate taught masters degrees include the latest developments in their subject.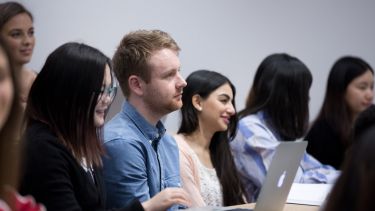 We offer courses across a broad range of subjects. Many courses have a wide choice of modules, so you can plan your study to suit your own particular interests and career aspirations.
Applications for postgraduate taught courses
It is important to apply as early as possible as demand for places on postgraduate taught Masters degree programmes often exceeds the number of places available. You do not need to wait for final examination results or references before you apply for a study place.
Applications for postgraduate Taught Masters degree programmes must be made using the University's online application system. There is no application fee to apply for postgraduate Taught Masters degree programmes. All postgraduate taught Masters degree programmes at the University of Sheffield begin in September each year. We do not have an intake in January or February.
Further information can be found in our prospective postgraduates section.
Entry requirements
High entrance requirements for postgraduate taught masters degree programmes at Sheffield reflect the quality of the University.
The University of Sheffield has been welcoming students from all over the world for many decades and we have a lot of experience in assessing and understanding the many different international qualifications.
As part of our English language requirements, you may be required to take an internationally recognised English language test such as IELTS.
Choose your country or region to get more information on the entry requirements you will need to meet.
Pre-Masters courses for international students
If you do not meet the entry requirements for our postgraduate taught Masters degrees you can be considered for our pre-Masters courses.
These courses are designed to prepare international students for admission to postgraduate taught masters degree programmes at the University of Sheffield:
Postgraduate taught scholarships
Explore scholarships for postgraduate taught courses starting in 2021, including:
100+ scholarships worth £10,000 each for home fee paying students
150 scholarships worth 25 per cent of the tuition fee for international students