Once you know what kind of PhD you're applying for, it's time to start writing.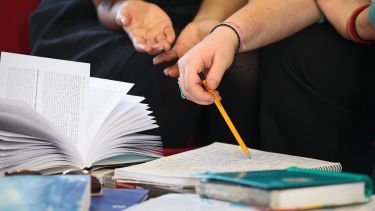 If you're applying for research within the Faculty of Arts and Humanities and the Faculty of Social Sciences, you will normally be required to provide an outline research proposal. This should fit with existing research interests and expertise within the academic department to which you're applying.
Check the department's webpages for information about any specific requirements, but the proposal should normally be about 500–1000 words in length and cover the following areas:
What's your idea?
This is known as your 'research question'. It could be a theory you want to test, or a more open question, but be precise. You should include a title for your thesis in the proposal.
What's your aim?
What are you hoping to achieve with your research? Why do you think it's worth doing?
What makes your idea relevant?
How does it fit into the context of current thinking on the subject? Will your research contribute something new?
What's your plan?
How will you go about answering your research question? For example, will you use a survey or case studies? You need to set out a workable methodology, and a timetable that shows your research can be completed in the time available to you.
What resources do you need?
Describe the materials, equipment, training and travel you need, their availability/feasibility, and where they fit into your methodology.
If you're applying to join an existing project or a Centre for Doctoral Training (CDT), you might not have to write a proposal. Each project or CDT is different.
Check our funded projects directory, department webpages and our Centres for Doctoral Training for more information, and if possible discuss your plans with your proposed supervisor before you apply.
---
Next steps
You should upload your research proposal as a supporting document in your online application:
Information about other supporting documents you'll need is available in our guidance:
Find a PhD
Search for PhD opportunities at Sheffield and be part of our world-leading research.