Support from your PhD supervisor
Your supervisor is here to get the best out of you. They'll offer advice and work with you to identify the training and development you need to achieve your goals.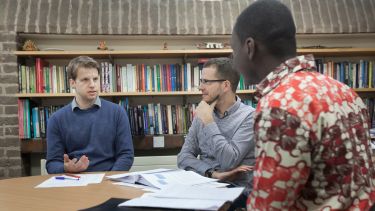 You'll benefit from their research expertise and you'll gain new perspectives from your innovative research.
Most important of all, your supervisor is a colleague and mentor. They'll motivate you to become a confident researcher, someone who's ready to try things that haven't been done before. You'll also be challenged to contribute beyond your research by undertaking placements, outreach or public engagement work, gaining teaching experience or developing business ideas.
Find a supervisor
Use our tool to contact a supervisor or familiarise yourself with their work.
We provide a network of support services to make sure you're happy, healthy and secure, so you can get on with doing what you do best.