To help you prepare for what's ahead in your research degree and future career, we're here to support you in your professional development.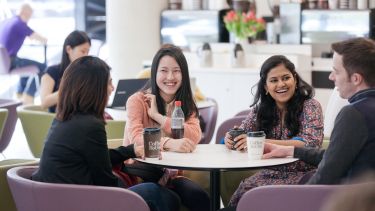 Off
Your development
We offer award-winning specialist training, one-to-one careers advice and mentoring from academics and professionals.
Your supervisor will work with you to identify your needs and create a personalised doctoral development programme. This might include taking taught modules alongside your research to help you achieve your goals. We'll make sure you learn skills relevant to you and your career plans.
Internships
Whatever your discipline, you can take a break from your research to go on placement in the UK or overseas. This could be with a private company, a hospital, a museum, a government department or an Non-Governmental Organisation. We'll help you look for potential employers.
Training
If you want to develop your research skills, we can offer expert guidance, including:
There are lots of training opportunities on offer and I've attended sessions on media training, presentation skills, open access publishing, careers, CV guidance and also writing funding proposals.

Dr Christine Wallis

Formal Doctoral Researcher
Ambition
If you have an idea for a business, a public engagement event or a non-profit enterprise we'll offer support and advice. We have a dedicated enterprise team working full-time to help students develop their ideas.
Public engagement
Sheffield is an innovator in the field of public engagement and there are many opportunities for you to get involved. You could even set up your own project.
Develop your skills, share your ideas
There are many opportunities at Sheffield to present and share your research through seminars and conferences.
Take your research expertise to business
Knowledge Transfer Partnerships (KTPs) are one of the longest standing schemes available for industry collaboration. Research students are typically funded to work with businesses to solve problems identified by the industry collaborator.
Continuous development and support
We're committed to supporting research staff by enhancing their experience of working at the University and contributing to their career development. 
Our innovative Think Ahead programme is a framework for the continuous professional development of our researchers, supporting individual career ambitions in and beyond academia. It brings together staff and doctoral researchers from various disciplines for professional development opportunities.
Find a PhD
Search for PhD opportunities at Sheffield and be part of our world-leading research.