IT services while studying at the University
IT and computer services are essential to studying at university, but we've got it covered so you don't need to worry about it. And if you ever have problems, we can help with those too.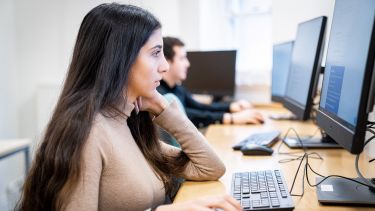 On
Many students choose to bring a laptop, as it gives them more flexibility about where and when they study. However, this isn't essential as all the University libraries and most departments have computers you can use for your work. You can use our FindAPC service to locate an available computer.
Across campus and our halls of residence we provide fast, free, secure WiFi for all your devices. We can even help you get connected and set up if you need some help.
The University provides free access to a huge range of professional and academic software. These will help with your studies and give you practical experience with tools you'll use in your career. Many of these software can be installed on your personal computer as well.
We provide a range of software and other support solutions to adapt your studies to your needs. From software that will convert text and documents to a format that suits you, to equipment to make your studies and research easier. We want to make sure technology doesn't get in the way of you reaching your potential.
Our IT Service Desk can support you with any IT problems you might have. From online articles so you can help yourself, to online chat or in-person drop-ins, they draw on a wealth of experience and expertise to help address any issues you might have.
We have a campus-wide network of printers which you can use to scan, copy and print - meaning you don't need to bring your own. All University computers are directly connected, and there is also a web app so you can print straight from your personal device. Then you can collect it from any printer on campus with a swipe of your student card.
Sometimes you want to study in the library - sometimes you want to finish and submit an essay from the comfort of your favourite coffee shop. Wherever you want to work, you'll be able to login and connect to all your University resources. We've also got guides to help you get connected to whatever you need, wherever you are.
Creating videos and imagery is an increasingly essential ability - for your studies and your career. Our Creative Media Service can help you learn the skills to do just that. They also offer a range of professional camera, audio and video equipment to hire, for free, for your studies and creative projects.
All of your studies are underpinned by an extensive collection of online learning resources provided through the University's online learning environment - MUSE. You'll get access to this through your student account as you go through induction when you join the University.
We have a team who provide education, mentorship and support for programming and software development, as well as for complex data collection, management and analysis. The Research IT team can also give access to specialist software and high-performance computing facilities for computationally intensive research.
All University of Sheffield IT accounts are protected by multi-factor authentication (MFA), which provides an extra layer of security. When you first log in to your University account you will be asked to set up MFA so you can access University online services and course materials. 
A world-class university – a unique student experience
Sheffield is a research university with a global reputation for excellence. We're a member of the Russell Group: one of the 24 leading UK universities for research and teaching.