IT Services is an open, welcoming and supportive team. We are knowledgeable in our fields, and trust and respect each other's expertise. We'll collaborate and support each other to deliver the shared goals of the department and the University.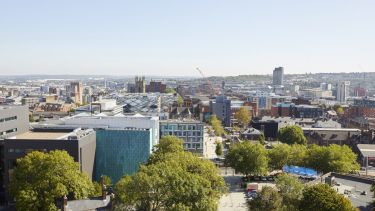 ---
We are a large department of over 250 people, split across sections and teams that specialise and collaborate together. There's a mix of colleagues who have joined and stayed in IT Services for a number of years thanks to the great spirit in the department. But we also have lots of fresh ideas and input from our new recruits - and we are keen to support all staff in their career progression within the department. We've even got an Assistant Director who started on our help desk and stayed and progressed to become one of our leaders.
Benefits of working at Sheffield
IT Services work in a hybrid way, with most staff splitting their time between our buildings on campus and working from home. 
A minimum of 27 days annual leave (pro rata), plus bank holidays and closure days, with the ability to purchase more.
A commitment to support your professional development, with access to learning, leadership and mentoring schemes
A commitment to your wellbeing, with confidential emotional support, support for those going through the menopause, undertaking fertility treatment and having a baby, paid leave for IVF treatment and more.
Generous pension scheme.
A wide range of discounts and rewards on shopping, eating out and travel.
Learn more about working at the University of SheffieldLearn more about what it's like living in Sheffield
Here's what a few of our current staff have to say about working in IT Services:
"Anything I do, however small,  that makes somebody else's job easier and less stressful always makes me feel proud."

Alex Colley - Teaching Technology Support Advisor

"I have been in my current role for nearly 8 years. I love working for the University and it gives me a real sense of pride when things go well!"

"Over the past year I have been mainly working on the Google Meet Hardware project. We have successfully installed hardware in over 90 meeting rooms across campus. These range from the small bookable meeting rooms in the Arts Tower, right through to the larger University Executive Boardroom."

"Anything I do, however small,  that makes somebody else's job easier and less stressful always makes me feel proud. To see that my efforts have made a difference to someone is a fantastic feeling. Working on civic engagement projects such as Festival of the Mind are also brilliant as they are always so well received by the public. It really feels like we're part of a big cause for good in the Sheffield community."

"We're very user focussed ... we enjoy it when we can help get someone unstuck and back to their research!"

Gemma Ives - Data Analysis and Visualisation Team Lead

"We collaborate with researchers on projects with considerable scope. Day to day we might have a few short consultations with researchers from around the University who are either stuck or need some advice on a topic in some way related to data analysis, visualisation or research design. This could be anything from a statistics problem to a bug in a codebase."

"We also spend time developing and delivering teaching materials for researchers who want or need to improve their computer literacy"

"We recently worked with the Office for Data Analytics on their pilot projects. One of which explored household financial fragility. We created a Shiny application, which lets policymakers explore which regions in Sheffield may be at the highest risk of financial fragility and their change over time. I'm particularly proud of the project and the team because we got to use our skills to support the South Yorkshire Mayoral Combined Authority to identify the areas in Sheffield that could benefit from additional support from the government."

"[I] appreciate the diverse environment of the University of Sheffield and being able to interact with most areas of staff."

Patrick Nkomo, Senior Network Technician

"I am a Senior Network Technician in the Network Operations team. I joined IT Services in June 2021 and feel privileged for this fantastic opportunity to work for one of the best universities in the world, and amongst the top international universities."

"I'm always happy when I'm able to leave customers satisfied, and know that end users have a great service. This all comes from excellent communication and interaction with colleagues across Business Support, the Server team, the Security team and many others. I also appreciate the diverse environment of the University of Sheffield and being able to interact with most areas of staff."
If this sounds like the place for you, take a look at some of our current vacancies.