Sheffield is England's fourth-largest city, with the wealth of facilities you would expect to find in a major city, yet it's compact, welcoming and accessible.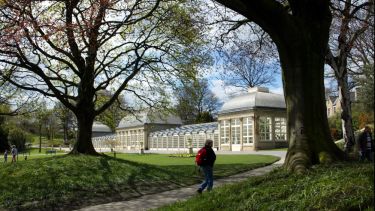 It's a friendly city with a prosperous economy and relatively low cost of living, all of which makes for an excellent quality of life. The attractive city centre is within walking distance of our campus and university life is very much integrated with the day-to-day life of the city.
Sheffield has been called the UK's greenest city; there are 50 public parks and 170 woodlands within the city boundary. England's fourth-largest city, it has the wealth of facilities you'd expect to find in a major city, yet more than a third of the city lies inside the beautiful Peak District National Park. It is the UK's only city with a National Park within its boundary, but it offers much more than beautiful countryside.
Sheffield is geographically diverse, nestled in a natural amphitheatre created by seven hills, and fed by five rivers. This diversity has given rise to an exceptional range of activities available, from walking or climbing in the beautiful Peak District to taking a boat ride along one of Sheffield's canals. The city is home to a range of museums and galleries and also contains the largest theatre complex outside London.
If you would like more information about Sheffield please visit Welcome to Sheffield.
Entertainment in Sheffield
Sheffield is also one of the UK's most fascinating cities from a cultural perspective, with an array of museums, galleries and theatres. The city hosts world-renowned art festivals, has produced many of the nation's most celebrated musicians and is home to some truly inspiring architecture. The city is full of independent restaurant, shops and coffee houses which add to its unique character. With Sheffield, you can be sure that there will be something to see and do.
The University and the city
We're working with partners and friends in Sheffield to help shape a culturally and economically vibrant city. Our expertise and passion for the city is helping make Sheffield a better place to live, work and visit.
A remarkable place to work
We're one of the UK's best not-for-profit places to work, according to the Sunday Times' ranking of Britain's happiest and most motivated workforces.
A world top-100 university
We're a world top-100 university renowned for the excellence, impact and distinctiveness of our research-led learning and teaching.