We appreciate the effort and commitment involved in making a job application and want you to have a positive experience of applying for our jobs. To help you with your preparation, please consider the following guidance before submitting your online application.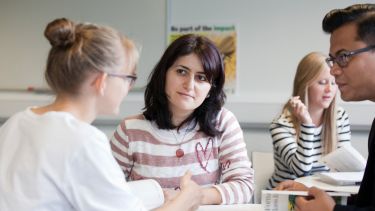 What will the recruiting department be looking for?
From the applications received for the job, the recruiting department will aim to select the candidates best suited to undertake the role successfully and invite them to the next round of assessment. This will normally include an interview combined with some other form of assessment, such as a presentation, written test or practical test relevant to the role.
Your application is your opportunity to convince the selection panel that they should select you to go through to the next phase of assessment. Remember that the selection panel will only be able to base their decisions upon the information provided in your application. We regularly receive high numbers of applications for many of our roles, so invest the time in ensuring that your application stands out. Provide the selection panel with a full picture of your ability to undertake the role by submitting a well-structured, informative and interesting application.
When completing an effective application for any role:
Do make sure that:
all information provided is honest and accurate.
all sections of the application are presented clearly and concisely.
you tailor your application to meet the needs of the person specification. Make it easy for the selection panel to see how well you match the job.
all information provided is relevant to the job as described within the About the Job details.
you provide evidence of how your previous experience, skills and abilities mean that you match the needs of the job i.e. the abilities/skills specified within the essential/desirable criteria of the person specification. Remember that you may be able to draw from different areas of your life to provide relevant and useful examples, not just paid employment.
you provide a full and continuous history of your education/training and unemployment/work experience. Unexplained gaps are not helpful and will be explored with you in person if you are invited to attend an interview.
you complete all essential fields on the online application form. Incomplete application forms will not be accepted by the system.
you have checked all spelling and grammar. Do not rely solely on computer spellcheckers.
any attachments are relevant, add value to your application and do not duplicate information provided in the main application.
Do not:
just confirm that you can do the criteria specified in the person specification without further explanation. You need to provide clear evidence of how you meet the criteria by giving examples which draw upon previous experience, from paid or voluntary employment, education or other interests.
cut and paste supporting statements between applications. This will be obvious to the selection panel and will have a negative impact on their consideration of your case.
overinflate achievements; keep them accurate and honest.
make it difficult for the selection panel to assess whether you match the criteria specified for the role. By structuring your application around the criteria identified for the job, you will make your application more relevant and easier to assess.
Each subsection of the on-line application will guide you through which specific information is required for that area. Some general points to consider include:
Education/training
The type and grade of qualification needed for the job, if any, will be specified within the About the Job details. List out the details requested about your education/training qualification/experience in date order, starting with the most current one. Make sure that you include your major qualifications and classifications/grades which are relevant for the job.
Employment and work experience
Provide the details requested about your employment and work experience. Remember, that you can include paid and/or voluntary work experience, providing that it is relevant to the application. It is important to ensure that there are no unexplained gaps in your application. Please specify the dates and reasons for any gaps eg period of unemployment, career break etc. Remember that any relevant voluntary work that you may have undertaken during that time could be included in your statement eg organising events and managing budgets as part of fund-raising activities etc.
Professional registration
The information to be provided will vary depending upon the needs of the job.
Application statement
This is your opportunity to make your case to the selection panel as to why you would be the best person for this job. In this section you can illustrate further how your education, previous employment and voluntary work, as well as life experience in general, combine to help you meet the needs of this job. Remember to keep it upbeat and concise, and link examples of your achievements back to the essential and desirable criteria identified within the person specification within the About the Job.
Eligibility to work
For all posts, we are legally obliged to confirm that the appointee is eligible to work in the UK before they start working for us. When you apply for jobs it is important that you are aware of your eligibility status as government restrictions apply to the employment of migrant workers. If an applicant selected to be appointed requires permission to work in the UK, the University may issue a conditional offer of employment subject to the University being able to sponsor the applicant. For more information, visit the Home Office website at http://www.bia.homeoffice.gov.uk/workingintheuk/.
References
All offers of appointment are made subject to satisfactory references. Applicants should provide contact details for referees who know them in a professional/educational capacity wherever possible as it is their knowledge/experience of you in a professional sense that we are seeking their opinions on. Avoid using references based solely on personal relationships if at all possible. When nominating any referee, please specify your relationship to them.
Working Health Checks
The level of check required will vary depending upon the needs of the job. For certain roles, we are obliged under Health & Safety legislation to assess that you are physically suited to undertake the role. If this is the case, it will have been made clear within the About the Job details.
Applicants with disabilities and the Two Ticks scheme
The University of Sheffield is committed to supporting the recruitment of applicants with disabilities and is a Disability Confident employer. Applicants with disabilities who meet the essential criteria for the job are guaranteed an interview under the scheme. If you have a disability and would like to be considered under this scheme, please confirm this within your online application. You can find full details of the scheme on the Disability Confident website.
Criminal records
Possession of a criminal record is not an automatic bar to employment at the University of Sheffield. We recognise the value of steady employment in the rehabilitation process and examine each case in its own right. All applicants will routinely be asked to provide details of current convictions and information about spent convictions will only be sought for jobs which have been identified as exceptions to the Rehabilitation of Offenders Act 1974 due to the nature of the work involved. This type of job will also normally be subject to a Criminal Records Bureau (CRB) check and this will be specified within the About the Job.
Circulation of applications
As part of the selection process, applications may be considered by a number of appropriate staff within the recruiting department, and a cognate department, in addition to the selection panel(s).
Diversity monitoring
We are committed to being a diverse and inclusive employer. Please complete this section as fully as possible to help us with our vital work on equality and diversity. The information provided in this section will be removed from your application and analysed on an anonymous basis to help inform our strategic action and decision-making. It will not influence your application in any way.
Your feedback
To help us with our on-going development of our on-line system and recruitment action in general, we welcome your feedback. Please send any comments or suggestions to jobs@sheffield.ac.uk.
A remarkable place to work
We're one of the UK's best not-for-profit places to work, according to the Sunday Times' ranking of Britain's happiest and most motivated workforces.
A world top-100 university
We're a world top-100 university renowned for the excellence, impact and distinctiveness of our research-led learning and teaching.