Listen to our audio trail to explore the classically-inspired buildings of Sheffield city centre.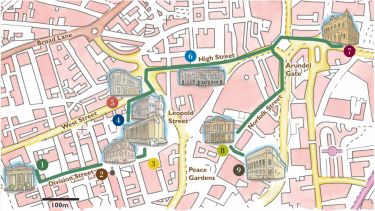 Discover how Athens' Parthenon and Italian Renaissance palaces inspired Sheffield's architects. Find out why some of the city's most famous buildings have towering columns, two elephants and a man holding an asp. Meet Titans and water gods – one wearing a fish. You'll also visit Sheffield's lost telephone exchange, Victorian water and gas companies, hidden chapels, old schools and self-important banks.
The trail features the voices of Professor Maureen Carroll and Dr Jane Rempel, of the Department of Archaeology, and BBC Radio Sheffield's Rony Robinson.
Print-ready Audio Trail Map
The Audio Trail
Listen to the trail using the audio player below.
Alternatively, you can listen to the audio trail on Soundcloud.
---
A teacher's guide for class-based lessons and field visits
This guide is for teachers in history, art or architectural studies to download and print. It can be used for class-based lessons or as a guide for field visits. The buildings can be visited individually or on a walking tour. An itinerary is suggested.
A world top-100 university
We're a world top-100 university renowned for the excellence, impact and distinctiveness of our research-led learning and teaching.