Zooarchaeology short courses
UPDATE:Due to the suspension of face-to-face teaching, short courses have been postponed to September 2020. If you already reserved a place, please contact us at zooarch-shortcourse@sheffield.ac.uk to let us know whether you prefer to attend the short courses in September or get a full refund.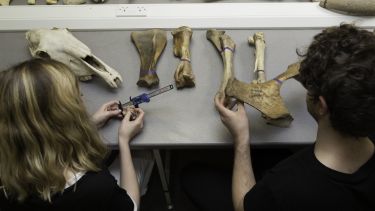 Sheffield has a long history of zooarchaeology teaching and research, and today it is home to one of the largest and most active zooarchaeology research teams in the world. Our members work throughout the UK and Europe as well as contributing to projects in America, Asia and Africa, and have research interests that span the period from the Palaeolithic to the recent past.
We currently offer two three-day courses in zooarchaeology, open to students, professionals and enthusiasts alike.
---
Understanding Zooarchaeology I
Introductory course aimed at beginners
Next dates: Monday 20 - Wednesday 22 April 2020 NEW DATES: 14th-16th September 2020
---
Understanding Zooarchaeology II
Follow up course aimed at those with existing knowledge or those who have completed Understanding Zooarchaeology I
Next dates: Thursday 23 - Saturday 25 April 2020 NEW DATES: 17th-19th September 2020
---
Prices
Single course - standard: £200
Single course - student/unwaged: £140
Both courses together - standard: £350
Both courses together -student/unwaged: £240
A world top-100 university
We're a world top-100 university renowned for the excellence, impact and distinctiveness of our research-led learning and teaching.