Our pioneering educational initiative has been running for 20 years and is responsible for more than 150 completed projects.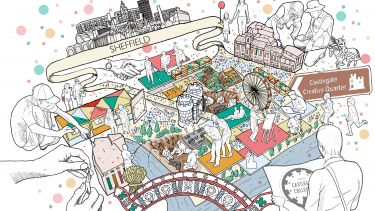 Working with local communities
Students work in groups with a range of clients including local community groups, charities, health organisations and regional authorities. In some cases, the projects involve actual building, in others design of urban masterplans or even consultation exercises. In every case, the project is real, happening in real time with real people.
The projects draw on the school's exceptional research base as well as the commitment, vision and resources of highly talented students.
The Live Projects set real constraints, responding to budget, brief and time. In each project, there is regular contact with the client and a defined end result, normally a presentation, report and sometimes physical building work. The projects place a large responsibility on the groups to deliver; as opposed to most student projects these are public and accountable.
Read about completed projects on the Live Projects website
---
Client recognition
Through this Live Project you have given us a vision of where we can go to. The team are absolutely fantastic in every respect. Their commitment, their energy, their desire to help our charity, our school, our adult services is beyond question. It has been a great privilege to work with you over this time.

Dr Spencer Pitfield, CEO of Paces
---
You brought life back into our building in a way I had not anticipated. Everytime I walked in there was another conversation happening. There was a hubbub all the time in the building with people interacting with and talking to all of you. It was some of the best community development work I've seen in 20 years

Andy Jackson, Heeley Development Trust
---
The real thing that we will take away from it is you have managed to understand the position of the building in the heart of the city. You have managed to position and create a building that will serve the people of Sheffield, enhance civic pride and it will give us a building that is right for everybody. It has been truly inspirational.

Jenny Cocker, Director of Finance and Resources at Museums Sheffield
A world top-100 university
We're a world top-100 university renowned for the excellence, impact and distinctiveness of our research-led learning and teaching.