Ecologies of Care Symposium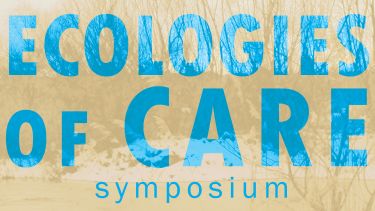 The symposium is an open invitation to discuss how architecture and urbanism can take responsibility, and actively engage with the creation of "Ecologies of Care" across the localities they are rooted in. This involves exploring practice of care in the urban realm as well as an interwoven web of ecologies, as well as developing an ethics of care for the multiple worlds emerging at the interstices of these ecologies.
Bringing together the plural understanding of ecology proposed by Félix Guattari, we understand care as "a species activity that includes everything we do to maintain, continue and repair our 'world(s)'."  The symposium aims to operate as the key piece in a conceptual framework for our MA in Urban Design studios to address the urgent challenge of repairing the broken planet, creating urban environments that care for the multiple worlds inhabiting it. 
3rd November 2021 - 2:00pm - 4:00pm
The Well, School of Architecture, and online (via Google Meet). 
Emma Cheatle

: The Sheffield School of Architecture, Storying as Care

Gabu Heidl

, GABU Heindl Architektur, Vienna, C.A.R.E. A manifesto for intersectional solidarity

Hasibul Kabir

, Co-creation Architects + Brac University, Bangladesh, Care, Share and Co-create
Events at the University
Browse upcoming public lectures, exhibitions, family events, concerts, shows and festivals across the University.