Student Success at Women in Property Awards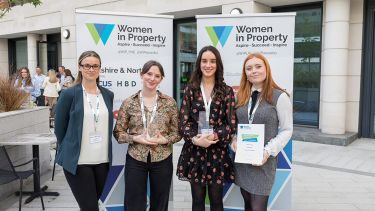 Thirteen female students from across Yorkshire and the North East studying a range of built environment disciplines are chosen based on their achievements throughout their second year.
Joanna Tarvet, a second year student studying Architecture and Landscape, has won the regional Women in Property award 2022. Joanna will go forward for the national title of 'Best of the Best' on 20th September.
Being nominated by my tutor to be part of the Women In Property awards scheme to where I am now, one of the regional winners for Yorkshire and the North-East region has been an honour. Women in Property have been beyond supportive throughout this process and it is so positive to see an organization actively promoting equality and diversity within a very polarized industry. This process has opened up so many opportunities for me, with formal interview practice, one to one mentoring and networking being a few of the many. I am so grateful to be supported by this organisation and I know that no matter the outcome of the national awards, I will keep in close links with them as a future member.

Joanna Tarvet

Third year BA Architecture and Landscape student
As the Women in Property's Yorkshire and North East region is so large Joanna was awarded alongside Anna Maw, who is studying Geography and Planning at Newcastle University.
Joanna is very involved in our dual course, acting as student ambassador and has a key role on the student society, helping to organise course related events throughout the year. Her work is sensitive and always responds to the urban context in which she is working. She is able to focus on bringing the best of both architecture and landscape ideas to her projects and is great at communicating this to prospective students and the general public.

Howard Evans

 Director of the dual Architecture and Landscape Architecture course
Shannon Goss, a second year student who is studying Architecture, has also been given a special commendation for her work.
Shannon is a promising young designer with a mature attitude to her work, successfully integrating a range of important issues into her work such as gender equality and climate justice. Beyond her studies, she is an excellent ambassador for our school, including taking a lead in our open days.

Stuart McKenzie

Head of Year 2
Being nominated for this award was both a surprise and an honour! It gave me the opportunity to develop fundamental interview techniques - allowing me to secure two internship positions later on in the year. The Women in Property Awards also motivated me to reconsider my role within architecture, developing my final housing project to feature a community run childcare scheme - empowering women to continue in their chosen careers.

Shannon Goss

Second year BA Architecture student
Each year the Women in Property organisation seek out the best students studying in subjects that relate to the built environment. The awards programme explores students' course work, challenges their industry knowledge and encourages students to hone and develop their interpersonal skills.
Note: this article was updated on the 14th September with a quote from Joanna.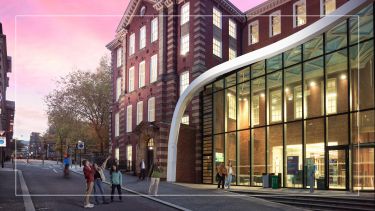 Visit us
Discover what sets Sheffield apart at our undergraduate open days on the Saturday 21 October or Saturday 18 November.