Dr Chengzhi Peng
BArch, DipLA, MSc, PhD
Senior Lecturer in Architectural Science
Research Ethics Lead
MSc Digital Architecture and Design Co-Director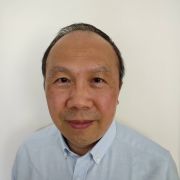 Profile

Though much to be developed, better understood and applied responsibly, advanced data-driven computational modelling is considered by many a viable approach to addressing the challenges of sustainable, liveable and informational (smart) built environment. I lead the Bioclimatic Design Futures (BDF) research team, working computational modelling of climate-energy performance and livability (thermal comfort and air quality) of building stocks in their urban contexts over the time-frame of climate projections. The aim is to achieve improved model accuracy, transparency, agility and power of feedback on planing and design decision-making.

I provided the leadership and launched the MSc Digital Architecture and Design (DAAD) programme in 2014. Working with the DAAD teaching team over the past years, a distinctive pedagogy of digital architecture and design has emerged. DAAD students are presented with the unique opportunity of creative fusion of parametric geometry with preformative micro-kinetics in the making of prototype digital architecture. Since 2017, working intensively with the students, we have been presenting and publishing original papers at the eCAADe and CAADRIA international conferences continuously.
Qualifications

PhD Architectural Computing, University of Edinburgh, 1989 – 1994
MSc Computer-Aided Building Design, University of Strathclyde, 1988-1989
Diploma in Landscape Studies, University of Edinburgh, 1987-1988
Bachelor of Architecture, Tunghai University, Taiwan, 1979-1984
Research interests

Research Interests:

Data-driven predictive modelling for optimising planning and design of sustainable and liveable building stocks over the time frame of climate change projections

Projects:

Modelling peak cooling demand and heat stress vulnerability of a city's dwelling stock in future climate; Towards The Formulation of an Omani Green Building Code Based on the Sustainable Principles of Vernacular Settlements; Urban morphology parameters for predicting impacts of urban neighbourhood and building design on urban microclimate; Projection of pathways towards better indoor air quality of a university's building stock.

Postgraduate Supervision Areas:

Climate-Energy Building Stock Modelling; Outdoor-Indoor Air Quality and Thermal Co-Simulation; Urban and Building Data Modelling using Machine Learning; Urban and Building Morphological Characterisation
Publications

Books

Journal articles

Chapters

Conference proceedings papers

Software / Code
Research group
Grants

Thermal Stress Vulnerability and Resilience: Housing Stock Transformation fit for an Ageing Society in Future Climate, with Dr Choo Yoon Yi, ESRC Postdoctoral Fellowships, starting 01/10/2020, 12 months.

Future Climate and Change in Livability of a City's Housing Environment. ESRC White Rose Social Sciences DTP Collaborative Award, in collaboration with John Clephan (Sheffield Housing Company), Prof Edward Ferrari (Centre for Regional Economic and Social Research, Sheffield Hallam University, 01/10/2018 - 30/09/2022.

Characterising Uncertainty in Complex Environmental Simulations for Public Engagement with Climate Change Conscious Sustainable Planning and Design. Grantham Foundation, Grantham Centre for Sustainable Futures Grantham Scholars Programme 2016. In collaboration with Prof Richard Wilkinson (School of Mathematics and Statistics), 01/10/2016 – 30/09/2020.

Transcultural Understanding of Designing with Climate Change: A Joint Design Research Studio Approach. In collaboration with Ranald Lawrence (University of Sheffield), Kevin Fellingham (University of cape Town), Edward Ng (Chinese University of Hong Kong), Yang Liu & Liming Kong (Xi'an University of Architecture and Technology), Kun Li (Wuhan University). Worldwide Universities Network (WUN) Research and Development Scheme 2014, 01/01 2015 – 30/06/2016.
Teaching interests

Urban microclimate modelling
Building information modelling
Computational design; digital design studio
Dissertation/thesis projects
Teaching activities

ARC 322 Special Study
ARC556 MArch Dissertation
ARC6808 Advanced Simulation for Modelling Adaptive Architecture
ARC6809 MSc DAAD Thesis Project
ARC6814 Critical Applications of BIM
ARC6815 DAAD StudioMAKE
ARC6819 Elements of Computational Design 2
ARC6990 SAS Dissertation Project
ARC6731 Doctoral Training in Architecture
Professional activities and memberships

Member of Editorial Board, ArchNet-IJAR, International Journal of Architectural Research, Emerald Publishing
Appointed Peer Reviewer, Qatar National Research Fund, Qatar Foundation
Member of Scientific Committee - eCAADe, CAADRIA, CAAD Futures
PhD External Examiners at University of Edinburgh, University of Nottingham, Manchester Metropolitan University, University of Huddersfield
Visiting Associate Professor, Department of Architecture, National Taiwan University of Science and Technology, Taiwan