Find out the full fee for your course, if you are eligible for scholarships, and what additional costs you can expect when studying as a postgraduate student in the School of Architecture.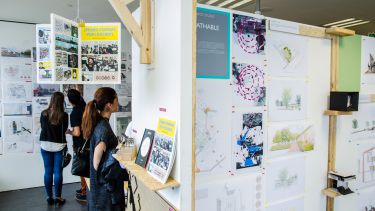 Off
University scholarships
There are university-wide scholarship schemes for masters students.
University of Sheffield funding for postgraduate taught courses
Student funding calculator
Give us a few details and we'll calculate how much money you could get towards your study and living costs, or suggest funding that you may be eligible for.
Fee lookup tool
Use our online calculator to find out how much your postgraduate course will cost.
---
Additional costs
Architecture postgraduate students can expect to incur some additional costs as part of their course, however, the school aims to minimise these where possible.
We have outlined some anticipated costs and also some resources that architecture students have access to as part of their tuition fees.
Books
There are no compulsory text books you will need to purchase for the postgraduate taught masters courses.
Each course will provide a recommended reading list to students. It is not expected that you will read every book over the course of the year, but you are encouraged to read as widely as possible to inform your project work, and to gain a greater understanding of your field.
The University Library has an extensive architecture collection, including access to journals, which is available to all students to support them in their studies. Key chapters will be provided to students.
Non-residential field trips
The postgraduate taught masters courses offer a range of studios which are based in different locations. There might be travel costs associated with any studios that include a site visit.
Some courses offer students the option to visit conferences across the UK which may require the students to pay for travel and entry to the event.
Residential field trips
As part of the design studio, students have the option to take part in a residential (often international) field trip to a location which links to the project brief. Students would be required to cover the costs of their participation in the field trip. The costs vary depending on the location so, if you are unsure, please contact us to discuss the course you have applied for and what you can expect.
Facilities
As an architecture student you will have full access to the facilities in our design studios, print unit, IT suite, workshop and media unit.
Equipment
A range of equipment will be required for the masters courses, but this is defined by the individual student depending on their chosen methods of working. We expect students to provide their own standard equipment. Basic equipment can be bought at a reduced rate from our workshop and print unit.
Information technology
Our departmental desktop computers are very high spec and are loaded with the latest software, so it is not essential that you buy a high spec laptop if you don't yet have one, but it will help.
The University system is PC based, so a PC ensures compatibility, although many students do use Macs. A lot of the software needed is available at lower cost or for free from the University – it is better to wait until you start the course when you can talk to the tutors, technical staff and students about the appropriate software.
Materials
During the course we anticipate that you will need a range of materials. Whilst students cover the costs of any model making and printing, the quality of the work is not assessed on how much or little is spent. All students work differently so costs incurred depend on the approach they take to the brief given.
We very much encourage students to use recycled materials in their models and presentations – not only is it sustainable, but also cost effective and potentially innovative.
Our print unit and workshop offer a range of printing and model making materials at a significantly lower cost compared to external suppliers.
Digital Review
The school is committed to utilising innovative digital technology to help minimise the costs incurred by students on the architecture courses. The postgraduate courses now widely use digital review formats in combination with the traditional printed pin ups. This means students have the opportunity to show their work on large, ultra-high definition, touch screen TVs which substantially reduces printing costs.
Other fees
The Student Services Information Desk provides more information about continuation fees, re-examination fees, re-submission fees and writing up fees.