Design, engagement and practice
Our researchers are working with an expanded notion of design and an understanding of the architect as a catalyst for social change and innovation. Their approach works in partnership with different disciplines and a range of communities and industries.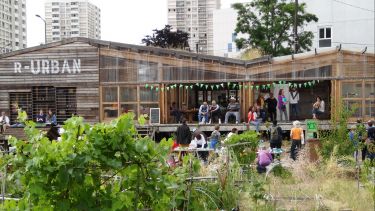 About us
The work in this group builds on the Sheffield School of Architecture's pioneering practices, pedagogies and research on participation and public engagement. All of the group's projects are underpinned by tools, processes, methods and knowledge of design.
The group's research projects include:
R-Urban, an alternative strategy of regenerating neighbourhoods with the principles of urban commons (ADEME)
Designing for Inclusion (Erasmus+)
Odessa, an EU-China project on understanding population change focussed on care delivery models that support ageing-in-place (ESRC)
Researchers in this group have also been key in developing Live Works, the School of Architecture's urban room, through projects such as Urban Education Live (ERA-NET).
---
Group members
Carolyn Butterworth
Leo Care
Beatrice de Caril
Isaiah Durosaiye
Karim Hadiji 
Doina Petrescu
Claudia Rojas Bernal
Fionn Stevenson
---
Featured projects
Urban Education Live
Funding: ESRC (UK)
Award value: €422,000 (UK component)
Urban Education Live (UEL) aims to contribute to the making of inclusive, vibrant and accessible urban communities. The three-year project brings together university partners from Finland, the UK, Slovenia and Romania to develop and test new models of collaboration between universities, urban communities, NGOs and public bodies.
Optimising Care Delivery Models to Support Ageing-In-Place (ODESSA)
Funding: ESRC (UK), ANR (France) and NSFC (China)
Award value: €1 million
This three-year venture will work with people who are over the traditional retirement age of 60 to find new and innovative ways of adapting a person's home so that they can live independently for longer and avoid going into residential care as well as making it easier for them to access public services.