Malcolm Butler
Director of Global Engagement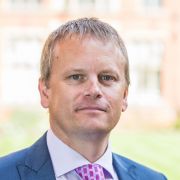 Arts Tower
Full contact details
Malcolm Butler
Global Engagement
Arts Tower
Western Bank
Sheffield
S10 2TN

Profile

Malcolm became the interim Director of Global Engagement in April 2017. His role is to drive the University's Internationalisation Strategy and to closely support the President and Vice-Chancellor, and members of the University Executive Board in their international activities.

The Global Engagement team delivers internationalisation through overseas student recruitment, student exchanges and summer schools, staff mobility schemes, identifying research opportunities, and developing international partnerships.

Prior to this Malcolm was Faculty Director of Operations for the Faculty of Engineering, during which time the faculty doubled student numbers and research income.

Malcolm was part of the team that designed and delivered the Diamond building. Malcolm joined the University as an employee in 2003 as manager of the Polymer Centre, and as part of this was co-founder and Managing Director of FaraPack Polymers Ltd.

Malcolm is a University of Sheffield alumnus, with a PhD in engineering materials (1993) and also has a physics degree (Warwick, 1989).

The first half of his career was spent in the steel industry working across the UK and Europe for British Steel/Corus (now Tata Steel) in a variety of technical posts culminating in being the Research and Development Programme Manager for a £9 million annual research and development programme. During this time he completed both an MSc(Eng) in Ferrous Metallurgy (Leeds, 1994) and an MBA (Warwick, 2003).