Professor Claudine Bowyer-Crane
BSC (Hons), DPhil
Professor of Education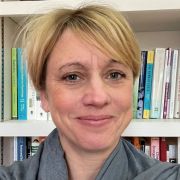 c.a.bowyer-crane@sheffield.ac.uk
Edgar Allen House
Full contact details
Professor Claudine Bowyer-Crane
School of Education
Edgar Allen House
241 Glossop Rd
Sheffield
S10 2GW

Profile

Claudine is a Psychologist with an interest in children's reading and language development, particularly children learning English as an Additional Language. She also specialises in Early Years research and the development and evaluation of educational interventions. 
Research interests

Claudine's research focuses on the development of language in young children and how this supports literacy development. She has been involved in a number of projects designing and evaluating early interventions including the Nuffield Early Language Intervention Home | Nuffield Early Language Intervention (NELI) (teachneli.org). She is theme lead for the Communication and Language strand of the Better Start Bradford project Home | Better Start Bradford, leading on evaluations of commissioned services in the Better Start Bradford reach areas.  

As Associate Research Director at the National Institute of Economic and Social Research, Claudine was involved in a broad range of evaluation projects from pilot studies to RCT's.  Currently Claudine is investigating the impact of COVID-19 on children's educational outcomes in the Early Years and early stages of primary school Home | ICICLES (iciclesproject.com). 

Claudine is particularly interested in making links between research, policy and practice.
Publications
Teaching interests

Claudine teaches on the BA Education, Culture and Childhood; the MA Education, the MA Education and Psychology and the MSc Education and Psychology (Conversion) programmes as well as supervising students on the EdD programme.