Dr Ryan Bramley
BA, MA (English Literature), MA (Social Research), PhD, SFHEA
Lecturer in Education
Senior Fellow of the Higher Education Academy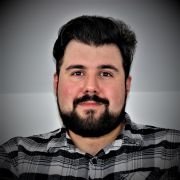 Profile

I am a lecturer, filmmaker, and arts-based researcher currently based at The University of Sheffield's School of Education. I primarily teach around digital literacy and methodological innovation in qualitative research, whilst also training people (from primary school pupils up to postgraduate students) in creative, non-traditional modes of qualitative inquiry, such as filmmaking, documentary techniques, and creative writing. 

In 2021, whilst completing my PhD, I was recognised as a Senior Fellow of the Higher Education Academy (SFHEA), demonstrating my long-standing commitment to learning and teaching within a higher education setting - with a particular focus on my role in introducing a brand new PGR degree programme, the 'PhD-by-Practice', across the Faculty of Social Sciences (as of 2020/21). 

I hold two Master's degrees in English Literature and Social Research respectively, and my research routinely explores ways in which artistic practice (especially filmmaking) can broaden our understanding of the social world - including my first feature-length documentary film, Born of Coal, which premiered at Sheffield's Showroom Cinema in May 2015. 

Most recently, I was Principal Investigator on the UKRI-funded 'Evaluating Trespass Prevention' project in 2021, in partnership with Network Rail and the National Railway Museum (UK).
Qualifications

BA English Language & Literature (Sheffield, 2015)

MA English Literature (Sheffield, 2016)

MA Social Research (Sheffield, 2017)

PhD in Education (Sheffield, 2021)
Research interests

My multimodal research outputs include:

Current research projects and engagements include:

Evaluating Trespass Prevention: working as the Principal Investigator on a UKRI National Productivity Investment Fund (NPIF) project, working in partnership with Network Rail and the National Railway Museum to better understand young people's perceptions of anti-trespass video campaigns. I am in the process of finalising the research report for this project, during which I worked alongside several academic colleagues from The University of Sheffield, including Becky Parry, Marion Oveson, and Aneesh Barai, to develop an evaluation toolkit for Network Rail's future use.
A Sheffield Innovation Programme project (as yet untitled) in collaboration with 'Paper', exploring how suspense in cinema is experienced from a Deaf perspective.
Lost Wor(l)ds: I am conducting a series of interactive video workshops, helping to maximise the impact of Sabine Little's award-winning research on multilingualism in schools.
Publications

Journal articles

Theses / Dissertations
Teaching interests

As well as being recognised as a Senior Fellow of the Higher Education Academy, I have also proved myself to be a versatile educator. I am currently involved with five different programmes within the School of Education (more info under 'Teaching activities'). 

I am really interested in interdisciplinary and transdisciplinary teaching, particularly when it involves bringing arts-based methods and methodologies into new spaces. As such, I have made significant contributions to university learning and teaching beyond the School of Education. I delivered an annual Guest Lecture, 'Introduction to Storytelling' for Master's of Architecture (M.Arch) students at the Sheffield School of Architecture (SSoA) between 2015-2018. I have also lectured on the School of English's MA Research Methods module, delivering an interactive session on 'Filmmaking as an Arts-Based Research Practice) to postgraduate Language & Linguistics students. 

One of my proudest achievements was the substantial role I played in the development and implementation of a new, innovative learning and teaching opportunity for students across the Faculty of Social Science: a 'PhD-by-Practice' Programme, introduced in 2021-22. In contrast to the traditional 80,000-word written thesis, a PhD-by-Practice allows a student to make a creative submission for their doctorate (e.g. poetry, film, photographic essay, drama performance, etc.), along with a written creative commentary that explores the theoretical and practical considerations underpinning the piece. 

I would be happy to supervise PhD and EdD students interested in exploring any of the following themes: Digital Media Consumption, Contemporary Film, Digital Literacies, Working-Class Voices, Alternative Media, Active Citizenship, Literary Representation, Multimodality, and the educational work/role of Third Sector and Non-Profit Organisations. I am also particularly interested in supervising PhD-by-Practice doctoral students. 
Teaching activities

I teach across a broad range of undergraduate and postgraduate programmes within the School of Education, both as a lecturer and a seminar tutor:

BA Education, Culture and Childhood

(Modules taught on include: EDU111 Making Sense of Education - Facts, Fiction and Data; EDU203 Research Project in Education, Culture and Childhood; I also deliver Academic Seminars for Year One and Year Two students)

MA Digital Literacies, Culture and Education

(EDU61002 Digital Culture and Childhoods; EDU61005 Researching Digital Childhoods)

(EDU6356 Critical Issues in Education and Educational Research; EDU6358 The Practice of Research)

International Postgraduate Certificate in Education (iPGCE)

(EDU6186 Practice-based Inquiry; EDU6168 Education, Teaching and Learning)

(EDU81004 Educational Research - Theory and Practice)
Professional activities

Member of the Disabled & Ill Researchers' Network

Member of the Emotionally Demanding Research Network