The School of Education will help you develop your studies onto the doctoral level.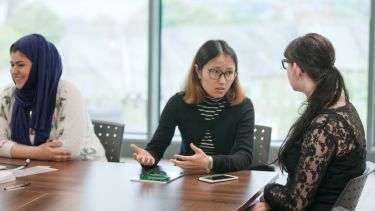 Apply online
All applications for our PhD programme can be made through our online application system.
Please note: the application portal for entry in 2020 is now closed.
Entry requirements
You will need a first degree which is equivalent to a UK classification of an upper second, or better, and a masters degree which is equivalent to a UK mark of 65% or above. Candidates with other qualifications will be considered on an individual basis.
---
Your application 
The School of Education encourages PhD applications which correspond to the research interests and expertise of staff - we can then offer high-quality supervision in your chosen field. 
Please look at our staff profiles and research specialisms before applying. Information relating to our research themes can be found here on the Research pages.
If you are interested in applying to study at Sheffield and have an idea of who you would ideally like to work with, indicate this on the application form where it asks for a proposed supervisor. Do not contact staff directly about your research application.
You should apply with a research proposal, 500-1,000 words. This must include:
A title that accurately describes your research focus.
A brief identification of the field in which your study would be located and of the contribution your research might make to that field.
Your research aims and questions.
Your first thoughts about the methods and the kinds of sources you are likely to use.
More advice on your application can be found on our central PhD webpages.
Find a PhD
Search for PhD opportunities at Sheffield and be part of our world-leading research.