The Ideas Bazaar event is the foundation of Festival of the Mind and welcomes all academics and creative practitioners who have innovative ideas.  Up to £5,000 funding is available for the best ideas to feature in Festival of the Mind 2022.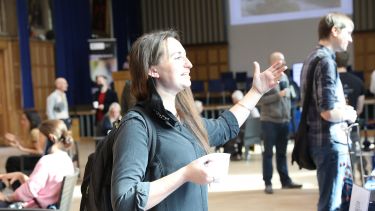 Festival of the Mind was the UK's first academic-city collaboration when it launched nine years ago, a festival of cutting-edge thinking and entertainment.  In preparation for the Festival, Ideas Bazaar is the first stage in the collaborations that help bring our research to life. We particularly welcome academic colleagues who feel public engagement could add real value and impact to their knowledge exchange aims or research project. 
The Ideas Bazaar team were there in person to help potential partners find their creative collaborations. The event is an opportunity to meet academics, artists, filmmakers, writers or maybe a digital creative who could really help to translate our university's research for a public audience.
Attendees and exhibitors were invited to share their profile and interests via a registration board.  If you were an exhibitor or attendee and haven't yet added your profile you can do so here:View the attendee and exhibitor profiles 
Since 2011, we have seen academics from diverse disciplines such as nanotechnology, English, engineering, robotics, architecture, psychology and biomedical science teaming up with artists, animators, film makers, poets, magicians and musicians in Sheffield to create many unique projects.  Successful partnerships have showcased our research in numerous venues across the City including the Spiegeltent, the iconic Castle House and Millennium Galleries, as well as University venues, to audiences from the City and beyond.
Further information about previous Festival of the Mind projects can be found at: www.sheffield.ac.uk/festivalofthemind
Got a question? Email: @engage@sheffield.ac.uk
Events at the University
Browse upcoming public lectures, exhibitions, family events, concerts, shows and festivals across the University.