Festival of the Mind 2022: information for applicants
Partnerships and Regional Engagement is pleased to announce that applications for Festival of the Mind 2022 are now open.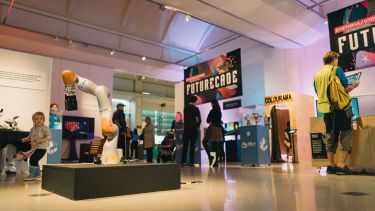 Festival of the Mind is the University of Sheffield's unique collaboration between our academic colleagues and experts from Sheffield's cultural and creative industries.
Festival of the Mind is a biennial celebration of the University of Sheffield's world-class research, showcasing collaborative projects produced by academics from the University and artistic talent from Sheffield's creative industries. Over 11 days our most exciting and cutting-edge research is shared with the public through innovative, imaginative and impactful events, performances, installations and exhibitions in venues across the city, including the wonderful spiegeltent. 
Applications are now open for collaborative projects between an academic member of staff and a creative partner to deliver activities for Festival of the Mind in 2022. Festival of the Mind will take place between 15 and 25 September in venues across Sheffield. The iconic spiegeltent will return and we anticipate that the festival will take place in person and online. For further examples of previous projects go to the Festival of the Mind website.
Funding of up to £5,000 is available to cover the costs of delivering the project. Applications must be made by an academic member of staff by the deadline of 5pm on 10 January 2022. Online application form
---
Next steps:
Further guidance is available and please contact engage@sheffield.ac.uk if you need any help finding a creative partner or discussing your project idea.
The themes of the festival are:
Celebration

  - working in partnership, co-production and collaborations in the region and beyond

Exploration

- link to technologies, ideas and historical meaning associated with exploring the world

Innovation

- link to the university strategy, creativity, problem solving 

Regeneration

- environmental, physical, molecular, etc 

Wellbeing

- link to health and social sciences but also wellbeing of the planet and humanity. 
General enquiries and further information, Email: engage@heffield.ac.uk  or visit the Festival of the Mind website.
Events at the University
Browse upcoming public lectures, exhibitions, family events, concerts, shows and festivals across the University.