Dr Sophie Rutter
BA (SOAS, London), MSc (Sheffield), PhD (Sheffield)
Information School
Lecturer in Information Management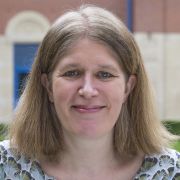 Profile

After completing a degree in Art and Archaeology at SOAS, University of London, I worked in industry for several years as an online publication coordinator for Donovan Data Systems (1993-1999), a project manager for Futura Interactive (2000-2001), and as the web and communications manager for the Port of London Authority (2001 - 2006). I returned to study for an MSc in Information Management at the University of Sheffield, and then stayed on for a PhD on children's information seeking.

During my PhD I worked on three research projects at Sheffield (Future of the Academic Library, Investigating Interlending, and Cultural Heritage in CLEF) and was also a visiting research intern for a search literacy project at the University of Nottingham. In 2018, I moved to the University of Leeds as a research fellow in communication design working on a co-design project with children (Lifting the Lid on Bacteria). I joined the Information School at Sheffield as a Lecturer in 2019.

University Responsibilities

Deputy Research Ethics Coordinator
Research seminar organiser
Module Coordinator INF6060 Information Retrieval: Search Engines and Digital Libraries
Research interests

I am interested in how environment influences the way people interact with, and use, information. My research so far has been broadly focused on school children, information seeking and health communication.

More specifically I have examined how the primary school environment influences how children and teachers use search technologies and search for information. I have also worked with primary school children to co-design handwashing communication. Recently I have been working on a project that examines the effectiveness of different types of images in communicating information about handwashing.
Publications

Journal articles

Conference proceedings papers
Teaching activities

I have taught on the Information and Knowledge Management, Information Retrieval, HCI and Research Methods modules.
Professional activities

Editorial board membership

Pakistan Journal of Information Management & Libraries

Journal and conference reviewing

Library and Information Research
CHI (Conference on Human Factors in Computing Systems)
Online Information Review
Journal of Information Management
iFutures
Pakistan Journal of Information Management & Libraries