Dr Monica Lestari Paramita
BSc (Indonesia), MSc (Sheffield), PhD (Sheffield)
Information School
Post-Doctoral Researcher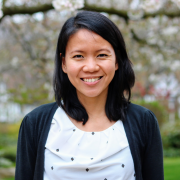 m.paramita@sheffield.ac.uk
Regent Court (IS)
Full contact details
Dr Monica Lestari Paramita
Information School
Regent Court (IS)
211 Portobello
Sheffield
S1 4DP

Profile

I obtained my MSc in Information Management from Information School, University of Sheffield in 2008. Since then, I have worked as a researcher for several EU-funded projects in the areas of Information Retrieval and Natural Language Processing. I am interested in investigating cross-lingual similarity in the Web, digital cultural heritage, and diversity and bias in information retrieval. I completed my PhD in 2019 where I investigated approaches for identifying cross-lingual similarity in Wikipedia articles.

I currently work as a post-doc researcher in the CyCAT project (http://www.cycat.io/) (Information School) to investigate bias in search engines and develop tools to improve the transparency of search engines. I also work as a post-doc researcher in the RR-IIKE project (Computer Science department) to develop a dialogue manager for a speech-driven data entry system in a manufacturing domain.
Research interests

I am interested in the following research topics:

- Cross-lingual similarity

- Algorithmic bias

- Diversity in information retrieval

- Information seeking behaviour
Publications
Teaching activities

Supervision for INF6000 (Dissertation), Lab demonstrator for INF6060 (Information Retrieval) and INF6024 (Researching Social Media).