Information for new students in 2020
Welcome to the Information School. We are aware that it will have been a very challenging last few months. We really appreciate and empathise with the stresses that this will have caused you, and are therefore especially pleased to have you here with us during these unprecedented times.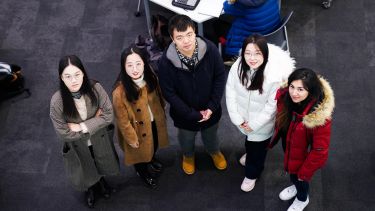 The health and wellbeing of our University community is our number one priority.
We're closely following the latest advice and guidance issued by the UK government, Public Health England and the Foreign and Commonwealth Office. We will continue to take all appropriate and necessary steps, as required by the official advice, to keep our community safe.
We want to reassure you that we are doing all we can to plan for all possible circumstances, and as the situation changes we will keep you updated with any further action you may need to take.
How we're adapting the University campus and teaching methods
Useful links
Join our Facebook group!
We've set up a Facebook group for all Information School Postgraduate students in 2020/21. You can join it here and get chatting with your fellow students!
Become a student rep!
Want to become the voice of the student body, enhance your CV, develop some skills and directly influence the Information School? Why not become an student rep? You'll sit on the Student Staff Committee to voice issues raised by students directly to the staff of the School and represent your coursemates. Find out more here.
Tell us where you're from!
We've set up a special Google Map for you to share where you're from in the world! (Please do not share your exact location, just somewhere in the general area you are from.)
Please go to the Google Map linked above (you need to be logged into MUSE) and add a marker using the pin icon under the search bar.
You need to add a title for your marker, please make this your name.
Also you can add a description, perhaps 'my home town is ***'
If you wish you can also add an image of yourself using the camera icon.
Click 'Save' and your marker will appear on the map.
Follow our social media channels!
Key contacts
Teaching Support team: is-teaching-support@sheffield.ac.uk
Admissions queries: informationschool-admissions@sheffield.ac.uk
General enquiries: is@sheffield.ac.uk
A world top-100 university
We're a world top-100 university renowned for the excellence, impact and distinctiveness of our research-led learning and teaching.