Information for new students in 2022
Welcome to the Information School. We're looking forward to welcoming all of our new students in September. Here you'll find all the information you need to prepare for the start of your studies.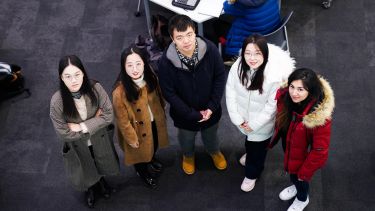 Intro Week timetable
Intro Week runs from 19th-23rd September and is when you will register as a student of the University, meet your classmates and staff, and familiarise yourself with your course. All students are expected to attend.
You can download our Intro Week Timetable here and find out what will be happening during this week. You will receive more information about this soon, including final locations.
Welcome from Head of School
Professor Val Gillet welcomes you all to the Information School in her welcome message - read it here.
Useful links
Information School Student Handbook: the handbook is a central hub for all the department-specific information you need during your study here, from extensions and unfair means to information about student-staff committee and careers. We recommend you save this as a bookmark to refer to throughout the year.
Students' Union: The SU runs a programme of introductory events including things related activities and societies, and information about part-time work fairs and more. There's also a countdown to intro week, and links to get tickets to social events.
Sheffield tours: the University has put together a playlist of videos showing you around the city and University, so you can get a feel for what it's like here. 
Join our Facebook group!
We've set up a Facebook group for all Information School Postgraduate students in 2022/23. You can join it here and get chatting with your fellow students!
Become a student rep!
Want to become the voice of the student body, enhance your CV, develop some skills and directly influence the Information School? Why not become an student rep? You'll sit on the Student Staff Committee to voice issues raised by students directly to the staff of the School and represent your coursemates. Find out more here.
Become a student ambassador!
Want to represent the Information School to future students, gain valuable skills for your CV and earn some money? Apply to become a Student Ambassador to assist us on open days, create video content, post on our social media channels, take part in online Q&As, write blog posts and more! Find out more here.
Tell us where you're from!
We've set up a special Google Map for you to share where you're from in the world! (Please do not share your exact location, just somewhere in the general area you are from.)
Please go to the Google Map linked above (you need to be logged into MUSE) and add a marker using the pin icon under the search bar.
You need to add a title for your marker, please make this your name.
Also you can add a description, perhaps 'my home town is ***'
If you wish you can also add an image of yourself using the camera icon.
Click 'Save' and your marker will appear on the map.
Follow our social media channels!
Key contacts
Teaching Support team: is-teaching-support@sheffield.ac.uk
Admissions queries: informationschool-admissions@sheffield.ac.uk
General enquiries: is@sheffield.ac.uk
A world top-100 university
We're a world top-100 university renowned for the excellence, impact and distinctiveness of our research-led learning and teaching.