In March 2016 the Department of Journalism Studies convened an Advisory Board comprising influential figures from the media industry and the research community.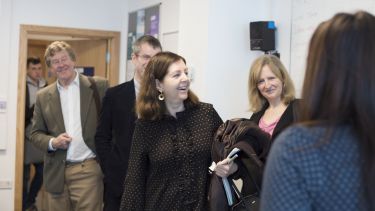 Together they offer a powerful range of perspectives and insight which will play a key role in retaining our position as the UK's number 1 journalism department.
The Advisory Board's functions are to
provide advice and support to the department in relation to its teaching, research and contribution to society
provide advice on the overall direction and objectives of the department in the light of changes in the media industry
Tributes to Lara Fielden, a former member of the Advisory Board, from the October Board meeting:
Ian MacGregor, chair of the Advisory Board, led the tributes to Lara Fielden who was a founding member. He said: "Lara had been a real asset to the board and a valued member. For those who didn't know Lara, she was a prestigious researcher for Reuters and her career has seen her work for organisations including IPSO, Ofcom and GMC."
Head of Department, Jackie Harrison, went on to express how saddened we were by the news of Lara's passing and how grateful we were to her commitment to the board. She said: "Lara has been a real asset over the years and has been very proactive in bringing opportunities to staff and students in the department. Further to Lara's professional contributions she was also a very nice person and extremely knowledgeable and we feel privileged to have been able to work with her."
Previous Board chair, Jonathan Grun, echoed Jackie's sentiments and noted how desperately sad it was to learn of Lara's passing. He said: "Lara was a distinguished journalist, an expert in media regulation and a champion for freedom of expression. She was a lovely person to know and work with and made a fantastic contribution to the board and the department over the years. She was a genuine friend of the department and we will miss her."
---
Members of the Advisory Board
Joyce Adeluwoye-Adams MBE
Editor, Newsroom Diversity, Reuters
Richard Best 
Managing Editor, The Independent
Christian Broughton
Editor, The Independent
Peter Cole
Emeritus Professor in Journalism Studies, University of Sheffield
Chris Elliott
Former Readers' Editor of the Guardian, board member of the Ethical Journalism Network
Toby Granville
Editorial Development Director at Newsquest
Jonathan Grun
Professional Chair in Journalism, University of Sheffield
Alison Gow 
Audience & Content Director North West, Reach plc
Tal Gottesman
Managing Editor of the i
Marie Kinsey
Emeritus Professor of Journalism Education, University of Sheffield
Ian MacGregor (chair)
Chair, Society of Editors; Emeritus Editor, Daily Telegraph
Vic Motune
Head of News, The Voice
Ben Preston
Executive Editor, The Sunday Times
Harriet Rose-Gale
Features Editor, SWNS News Agency
Laura Scott
Editor of News Output, Sky News
Dan Walker
Broadcaster and sports journalist, BBC
Charlene White
Anchor, ITV News
Oliver Wright
Policy Editor, The Times
A world top-100 university
We're a world top-100 university renowned for the excellence, impact and distinctiveness of our research-led learning and teaching.