In March 2016 the Department of Journalism Studies convened an Advisory Board comprising influential figures from the media industry and the research community.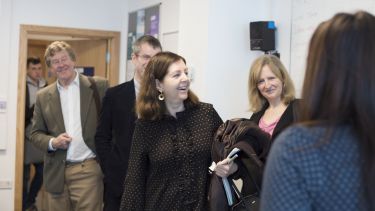 Together they offer a powerful range of perspectives and insight which will play a key role in retaining our position as the UK's number 1 journalism department.
The Advisory Board's functions are to
provide advice and support to the department in relation to its teaching, research and contribution to society
provide advice on the overall direction and objectives of the department in the light of changes in the media industry
---
Members of the Advisory Board
Joyce Adeluwoye-Adams MBE
Editor, Newsroom Diversity, Reuters
Richard Best 
Managing Editor, The Independent
Christian Broughton
Editor, The Independent
Kieron Bryan
Series Editor for Digital, Channel 4 News
Chris Elliott
Former Readers' Editor of the Guardian, board member of the Ethical Journalism Network
Toby Granville
Editorial Development Director at Newsquest
Jonathan Grun
Professional Chair in Journalism, University of Sheffield
Tal Gottesman
Managing Editor of the i

Lester Holloway
Editor of The Voice
Marie Kinsey
Emeritus Professor of Journalism Education, University of Sheffield
Ian MacGregor (chair)
Chair, Society of Editors; Emeritus Editor, Daily Telegraph
Vic Motune
Head of News, The Voice
Ben Preston
Executive Editor, The Sunday Times
Harriet Rose-Gale
Features Editor, SWNS News Agency
Laura Scott
Editor of News Output, Sky News
Dan Walker
Broadcaster and sports journalist, BBC
Charlene White
Anchor, ITV News
Oliver Wright
Policy Editor, The Times
A world top-100 university
We're a world top-100 university renowned for the excellence, impact and distinctiveness of our research-led learning and teaching.