Holly Bourne: journalist, novelist, Sheffield graduate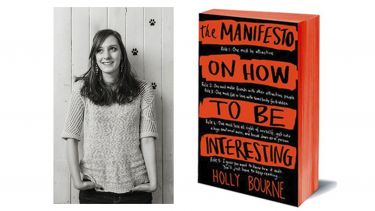 Holly Bourne - who studied BA Journalism Studies at the University from 2005 to 2008 - is an author of young adult (YA) fiction. Her debut novel Soulmates was published by Usborne in September 2013, followed this month by The Manifesto on How to be Interesting - which courageously tackles difficult issues such as self-harm and bullying.
Following the success of her first two titles, Holly has agreed a new two-book deal with Usborne, granting the publisher rights to her next novel Am I Normal Yet?
Holly (pictured) said: "I still remember my introductory lecture at Sheffield where they said, 'Some of you may even go on to write novels,' and I really hoped that would be me. I'm delighted that's actually happened.
"I had an amazing three years doing my degree and it's helped me enormously with both my author and my journalism career. Whether that's tracking down tricky case studies, keeping to tight deadlines, or knowing I'm only allowed to use two exclamation marks per 100,000 words."
Creative crafts
One of Holly's tutors in the Department of Journalism Studies, Jonathan Foster, said: "Holly writes like an angel. She always could. She was a first-class student, a prize-winning reporter and now a gifted author.
"She's paid tribute to the creative crafts she learned here and she's one of many Sheffield graduates who have successfully adapted the skills of non-fiction."
Alongside her activities as an author, Holly works full time for TheSite.org, an advice website for young people. She was shortlisted for Print Journalist of the Year in 2010 while working as a news reporter for the Surrey Mirror.
A world-class university – a unique student experience
Sheffield is a research university with a global reputation for excellence. We're a member of the Russell Group: one of the 24 leading UK universities for research and teaching.