Students wowed by International Journalism Week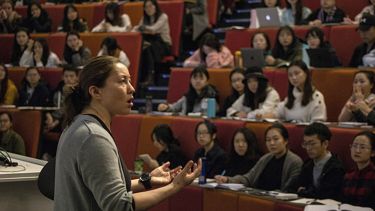 Now in its seventh year, the event brought together researchers and media professionals from many settings in a programme of events which examined the challenges faced by journalists worldwide. Their talks were attended by hundreds of students from the Department of Journalism Studies, who took to social media to express their excitement and participated in two competitions on the theme of media freedom.
Highlights of the week included:
an inaugural lecture from Professor Jackie Harrison, head of the Department of Journalism Studies and chair of the Centre for Freedom of the Media (CFOM), to begin her term as UNESCO Chair on Media Freedom, Journalistic Safety and the Issue of Impunity
a talk from Rodney Sieh, founder and editor of FrontPageAfrica, who was given a 5,000-year jail sentence by a Liberian court for failing to pay libel damages to a former minister who sued his paper after it published the findings of a government audit
a powerful documentary film about the assassination in 2017 of the investigative journalist Daphne Caruana Galicia, whose work probed power and corruption in Malta; and a visit from Galicia's son Paul to take part in a CFOM expert panel
Thought-provoking
"Thank you so much @RodneySieh for being such an inspiration," tweeted Yuli, who arrived at the University from Bulgaria this year to begin his BA Journalism Studies degree. "Coming from a country where freedom of speech is a thorny issue, your talk motivated me and I know that I can make a difference."
Another first-year undergraduate, Liam, observed: "After a lot of discussion on press freedom and a Q&A the wonderful and thought-provoking @CFOMsheff panel comes to an end and @sheffjournalism students will take a lot away from today's event."
"I have enjoyed #IJW18 so much and really don't want it to end," tweeted Zara, as the week closed with Sheffield journalism alumnus Kieran Guilbert discussing his work with Thomson Reuters Foundation to expose modern slavery and human trafficking.
---
Thank you so much Rodney Sieh for being such an inspiration. Coming from a country where freedom of speech is a thorny issue, your talk motivated me and I know that I can make a difference

Yuli Stoyanov

Journalism Studies undergraduate
---
See more tweets about International Journalism Week
High standards
In a 'group challenge' competition, students were asked to produce case studies of a country or organisation, considering threats to journalistic freedom and safety. In a parallel individual contest, meanwhile, they created a piece of work responding to the question of how news organisations should prepare journalists for high-risk environments.
Students were praised for their responses to the competition – and to the week's programme of events more generally – by Dr Emma Heywood, the organiser of International Journalism Week.
"Student engagement throughout the week has been incredible," said Emma. "The levels of engagement – not only in the talks and in the question-and-answer sessions but also in the group and individual competitions – symbolised the high standards of reflection and interaction we expect from our cohorts."
Photos: Alistair Brook
Video: Christian Hopewell
Events at the University
Browse upcoming public lectures, exhibitions, family events, concerts, shows and festivals across the University.