Dr Bina Ogbebor
BA (Calabar); MA (Cardiff); PhD (Cardiff)
Department of Journalism Studies
Lecturer in Journalism Studies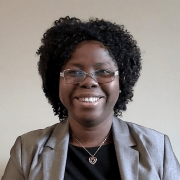 Profile

Bina joined the University of Sheffield in February 2020 as Lecturer in Journalism Studies. Before then, she worked as a teacher at Cardiff University's Department of Journalism, Media and Culture (casual staff 2013–17; full-time 2018–19). Bina worked as a TV reporter, news editor and producer/presenter for 18 years before moving into higher education.

Her research and teaching interests include media representation, media policy, media and democracy, public sphere, media power, and self-coverage, among others. Bina is a recipient of several scholarship awards including the British Chevening Scholarship and the Cardiff University Geoff Mungham Award. She has also served as the organiser of the prestigious Future of Journalism Conference 2019.
Research interests

Bina's PhD thesis, entitled 'Representation of the News of the World phone hacking scandal and the Leveson Inquiry: an analysis of the debate that arose from the scandal', covered issues relating to media reform, press regulation, media freedom, public trust, public interest, media ownership; public sphere, political economy of the media; gatekeeping and agenda setting, among others. Bina is particularly interested in research connected to the relationship between the media and society.
Publications

Books

Journal articles

Chapters
Teaching activities

Bina contributes to the following modules:

JNL120 Essential Journalism: The Media, Race and Racism
JNL6075 Media Freedom: European, UK and US perspectives
JNL6027 Journalism, Globalisation and Development
JNL323 Introduction to Research Methods
JNL305 Dissertation in Journalism
JNL6133/JNL6300 Dissertation (Global Journalism/IPPC)