Our research focuses on how communication with the public is undertaken, whether directly or through the media.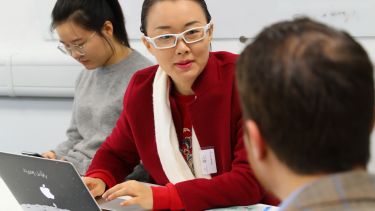 With journalism and public and political communication at the heart of our enquiry, we draw from various other disciplines such as sociology, history, political theory, politics and law. We produce high-quality outputs. We engage with policymakers both nationally and internationally. And we use our impact to improve the quality of mediated information in various contexts, locally and globally.
Research in the Department of Journalism Studies is supported by our two research centres.
Centre for Freedom of the Media
The Centre for Freedom of the Media (CFOM) is a global, interdisciplinary research institute which aims to:
contribute to the development of policies to protect media freedom and public interest journalism whenever they are under threat in areas of conflict, instability or tension
inform and advise governments, policymakers and stakeholders internationally on countering threats to media freedom, bringing about positive changes to laws, policy and practice and raising standards of journalism safety.
CFOM works with international organisations such as UNESCO, the United Nations, the Council of Europe, the African Media Initiative and Fondation Hirondelle. Professor Jackie Harrison, chair of CFOM and head of Journalism Studies, has been awarded the first UNESCO Chair on Media Freedom, Journalism Safety and the Issue of Impunity.
Centre for the Study of Journalism and History
Over the past ten years the Centre for the Study of Journalism and History has established itself as a forum for interdisciplinary research on journalism and history. The institute has organised more than ten international conferences, bringing together experts from over 20 countries to set up dialogues about using journalism both as a source for understanding the past, and for clarifying ideas about the public sphere, language and discourse. The centre is particularly interested in developing robust methodologies for exploiting digital archives of journalism content.
Current members have attracted almost £1million in external funding. Recent published work includes Tabloid Century by Bingham and Conboy (2015) and the Routledge Companion to British Media History (2018), edited by Conboy and Steel.
The centre has a thriving postgraduate research community and a rich set of digital and physical resources and encourages applications in any area of relevance to its current research projects.
Visit the Centre for the Study of Journalism and History webpages
All our students are very welcome to engage with our research centres and with the Communication, Media and Journalism research group (CMJ). This is a community within the Department of Journalism Studies which comprises our PhD students and research-active academic staff, and a place where ideas can be exchanged. It is supported by a seminar series which brings guest speakers to Sheffield from across the world. It is an exciting and vibrant research community and we're looking forward to you becoming part of it.
Expand the links below to find out more about what the department offers PhD students.
Excellent supervision and support

Great facilities

PhD training in the Faculty of Social Sciences

Teaching opportunities
Find a PhD
Search for PhD opportunities at Sheffield and be part of our world-leading research.