The University of Sheffield, uniquely, is rated in the top 5 for media and journalism by all three of the UK's independent university league tables.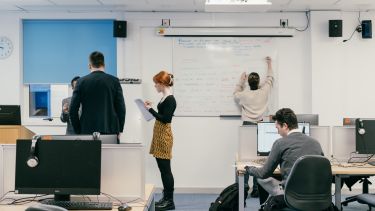 League tables
We are currently rated number 2 in England for journalism (number 3 in the UK) by the complete University Guide 2022. 
For several years now Sheffield has been the only university to feature in the top 5 of all three league tables for journalism. We have achieved several number 1 ratings during that time, recently by the Complete University Guide 2020, the Guardian university league tables for 2019 and 2018, and the Times/Sunday Times Good University Guide in 2018.
National Student Survey
Our most recent score in the National Student Survey rates us number 1 in the Russell Group for teaching on the BA Journalism Studies course. We rank number 2 in the Russell Group for overall satisfaction on the course. 
But remember...
There's far more to choosing a university than looking at rankings. Visit the places you're interested in. Talk to students. Look around. Get a feel for the university and the city.
We don't want you to choose Sheffield just because we score well in the league tables. So come and meet us on an open day. Get to know us on Instagram, Twitter and Facebook. If you study with us, we want you to feel confident and happy that you're coming to the university that's right for you.
Explore the University
Discover why Sheffield is the right choice for you at one of our open days or events.