Hands-on experience has given me a greater understanding of the processes that go on beyond design.

Katherine Langley
Undergraduate student
Architecture and Landscape, BA
A month at Sussex Prairie Gardens, where no two days were the same, helped to improve Katherine's plant knowledge.
What attracted you to complete a placement with Sussex Prairie Garden?
Planting design is one of my main interests and the placement was a great opportunity to be completely immersed in hands on horticultural experience. I wanted to learn more about the naturalistic prairie planting style so Sussex Prairie Gardens was the perfect place.
How did you organise your placement?
A group of Landscape Architecture students who went to Sussex Prairie last year gave a talk, which included advice on applying and the opportunity to ask them questions about the experience.
What did a typical day consist of?
The day started with feeding the sheep and the pigs, then tasks in the garden such as weeding, watering and potting on plants. At 10:30 each day the team sat down together for tea and cake which was a lovely way to get to know everyone.
When the gardens opened we would help at the entrance, talking to visitors and helping out with occasional events at the garden like live music and tv crews coming to film. No two days were the same!
How do you think your placement has helped you develop as a Landscape Architecture student?
A month of hands-on experience has given me a greater understanding of the processes that go on beyond design, and my plant knowledge has improved a lot.
On some of our days off, the owners of the garden Paul and Pauline took us to see other gardens in the area including Sissinghurst and Great Dixter, which was very inspiring and an opportunity to see the varying approaches different gardens take to design and maintenance.
Did you have any worries about the experience and what do you wish that you had known beforehand?
Joining a new group of people can be scary but the community of staff and volunteers at Sussex Prairies is very welcoming. It felt like being part of a family.
Is there anything else you'd like to tell us about your experience on placement?
Ruby, Esther and I spent the month living in a caravan at the gardens which was lovely. We cooked together in the evenings using vegetables and herbs from the garden then we'd sit outside with the gardens to ourselves. We spent some of our days off sketching in the gardens and exploring the surrounding area through walks and bike rides to local pubs.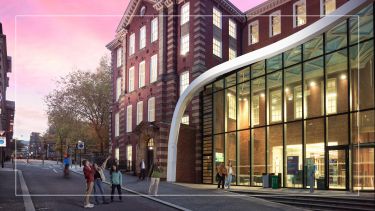 Visit us
Discover what sets Sheffield apart at our undergraduate open days on the Saturday 21 October or Saturday 18 November.