The Department of Landscape Architecture hosts events open to researchers, students and the wider academic and professional community.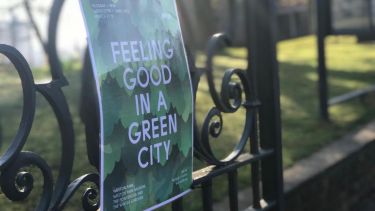 Off
FUTURE HISTORY: Teaching history in landscape schools
8 and 9 September 2022
A meeting of universities and schools about the teaching of history for landscape architecture, organised by Jan Woudstra and Robert Holden, FOLAR
Past events
Summer Exhibition 2022
After a two-year hiatus, we were delighted to return to the Arts Tower for our 2022 exhibition on 10 June, to celebrate the achievements of our graduating students.
Rewilding the Landscape
Conservation pioneer Charlie Burrell - responsible for the rewilding of Knepp Castle's 1400 hectare estate - visited Sheffield to discuss its celebrated transformation and the impact that the rewilding movement is having in the UK and internationally.
The story of the transformation of Knepp Estate is the subject of the bestselling book Wilding, published in 2018 by Charlie's wife, the journalist Isabella Tree.
Together, Charlie and Isabella have successfully converted the West Sussex estate from unprofitable farm to thriving habitat over a 17-year period.
Street Trees and Politics
An international conference responding to Sheffield's street tree crises, with contributions from campaigners, academics, journalists, lawyers and more.
The two-day conference explored the issue of street trees and politics from a multidisciplinary perspective, addressing a wide range of issues including:
How have street trees been used to support political narratives?
Who plants and owns street trees? What are the debates and narratives on responsibility, both historically and at present?
How has the case for street trees been argued in the past, and at present? And how has that been translated into policy?
What are the environmental and political issues about the 'design' with street trees, where they are planted and how?
How is it possible that in a period where climate warming is one of the major issues affecting the survival of humanity that street trees are not considered as a vital part of the urban ecosystem, and thus integrated in the political debate?
The Politics of Street Trees, a book featuring contributions from the conference, is due to be published in 2021.
Summer Exhibition 2019
Showcasing the final projects of our graduating students, the exhibition is an opportunity to discover new talent in landscape architecture and celebrate the considerable achievements of this year's cohort.
Feeling Good in a Green City
Members of the public were invited to a free two-day festival to celebrate nature and wellbeing in Sheffield.
Taking place in Weston Park, Weston Park Museum, the Ponderosa and the Winter Gardens, the Feeling Good in a Green City festival was packed full of ideas for improving wellbeing and mental health.
The programme included nature and wellbeing workshops, mindfulness sessions and guided nature walks, along with live music, artists and performers.
A global reputation
Sheffield is a research university with a global reputation for excellence. We're a member of the Russell Group: one of the 24 leading UK universities for research and teaching.